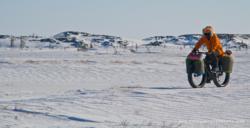 My adventures use the story of unique journeys to talk about bigger issues.
Boulder, CO (PRWEB) January 11, 2013
Leaving the edge of the Antarctic continent, Hercules Inlet, on Dec. 20, 2012, polar adventurer Eric Larsen started pedaling his Surly Moonlander 'Fat Bike' loaded down with 100 pounds of gear in an attempt to complete the Cycle South expedition, a first ever bicycle traverse of Antarctica to the Geographic South Pole.
"My adventures use the story of unique journeys to talk about bigger issues," Eric Larsen says. "This expedition combined two of my greatest loves – winter and biking. Of course the real focus of Cycle South was to demonstrate how people can use bicycles to protect the environment, improve the lives of people in developing nations and fight Parkinson's Disease."
After covering 175 miles, one quarter the distance to the South Pole, Larsen had to make the difficult decision to turn around as surface snow conditions prevented him from covering enough miles before his food and supplies ran out. In cycling another 160 miles back to a safe pick up point, Larsen unknowingly achieved another world record: The longest bicycle journey in Antarctic history.
Despite the abbreviate adventure, Larsen remains dedicated to continuing his advocacy work and raising $10,000 for the Boulder-based nonprofit Davis Phinney Foundation. Phinney is an ex-bike racer and was one of the first Americans to win a stage in the Tour de France and was later diagnosed with Parkinson's Disease. Larsen is particularly close to this issue as his own father has Parkinson's Disease.
From his blog post on Dec. 28, "At least I CAN turn around. My dad and all the other people suffering with Parkinson's Disease have no other choice but to continue forward day after day, year after year. Understanding this simple fact seemed to put my whole expedition into perspective as well as the real goal of this trip: to help raise awareness for the groundbreaking research that is being done by the Davis Phinney Foundation and their efforts to use bicycles to help improve the lives of those who live with Parkinson's."
Another 'first' that was reached during the Cycle South expedition was real-time location tracking via DeLorme's inReach satellite beacon. Larsen had the ability to send and receive texts via the beacon during prearranged media events. Larsen has a long-standing relationship with DeLorme where in 2010, he sent the first tweet in history from the summit of Mt. Everest via a DeLorme device. Larsen also worked with Minnesota-based Ergodyne to test a variety of gear and clothing.
Also unique to this expedition is Larsen's ability to tell his story both by photos (that he takes himself since this was a solo expedition), podcasts and his daily blog posts. Along the route, he was able to stay connected to followers across the globe using a remote blogging platform developed by Web Expeditions and by harnessing Goal Zero solar power to assist with daily blog updates, tweets, podcasts and satellite phone calls. Using the story of his journey, Larsen hopes to inspire and educate. Through his web site http://www.ericlarsenexplore.com, @ELexplore Twitter feed and Facebook page people were able to learn more about several bicycle-related charities and how they can directly support each organization.
Cold and remote is nothing new to Larsen. He has led three successful skiing expeditions to the South Pole spending seven months total in Antarctica to date. In 2010, he completed the Save the Poles expedition, a world record journey to the South Pole, North Pole and top of Mt. Everest in a 365-day period. In 2006, he completed the first ever summer expedition to the North Pole.
The Cycle South expedition is sponsored by DeLorme and Ergodyne with major support from Wenger, MSR, Goal Zero, Clif Bar and Scream Agency. Additional expedition support is provided by Surly, Bergans, Stanley, Yaktrax, Scarpa, Vapur, Granite Gear, Optic Nerve, Mountain House, Napkin Labs, Therm-a-Rest, RoadPost, Wigwam, Princeton Tec, Skratch Labs, Action Wipes, Revelate Designs, Thule, Challengera, A-Train Cycles and WebExpeditions.
About Eric Larsen
Polar adventurer, expedition guide, dog musher and educator, Eric Larsen has spent the past 15 years of his life traveling in some of the most remote and wild places left on earth. In 2006, Eric and Lonnie Dupre completed the first ever summer expedition to the North Pole. During this journey, the duo pulled and paddled specially modified canoes across 550 miles of shifting sea ice and open ocean. Eric successfully led his first expedition to the South Pole in 2008, covering nearly 600 miles in 41 days. Eric is now one of only a few Americans in to have skied to both the North and South Poles.
In November 2009, Eric returned to Antarctica for the first leg of his world record Save the Poles expedition. This time he completed a 750-mile ski traverse to the geographic South arriving on January 2, 2010. Two short months later he was dropped off at northern Ellesmere Island for a winter-style North Pole Journey. The international team reached the North Pole 51 days later on Earth Day - April 22, 2010. He completed the Save the Poles expedition by reaching the summit of Mt. Everest on October 15th, 2010 becoming the first person in history to reach the world's three 'poles' within a 365-day period.
Eric's other expeditions include dog sledding in the Canadian Arctic, training trips to Hudson Bay and countless dog sled races (including the John Beargrease Sled Dog Marathon). He has summited Mt. McKinley, ridden his bike across the United States, been a backcountry ranger in Alaska and a white water canoe guide in Colorado. Eric has dedicated his adult life to sharing his love for the outdoor world with others. As an educator, Eric strives to connect people to places and issues. In recognition of those efforts, Eric was elected as one of Outside Magazine's Eco All Stars in 2008.
Eric travels extensively giving motivational and educational lectures to schools, universities, non profit organizations and corporate groups. He is also finishing the documentary COLDER about the Save the Poles expedition. Eric lives Boulder, Colorado with his partner Maria Hennessey and their one month old baby boy, Merritt.
Note to media: To schedule an interview with Larsen or to receive photos, please contact: Lora Ledermann, lora(at)screamagency(dot)com, 303-893-8608 ext. 202.