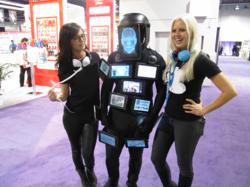 Las Vegas, CA (PRWEB) January 11, 2013
Dressed in an all-black, one piece "suit," Accessory Power's TabletMan is a main highlight at International CES 2013 in Las Vegas. With a dozen tablets on his body, including a 3D grid mesh face (see photo), passersby that make their way through the second floor of the Las Vegas Convention Center's South Hall are captivated by this "Man in black." And Accessory Power would not like it any other way.
Accessory Power has its headquarters in Westlake Village, California, about half an hour north of Los Angeles. As a manufacturing and distribution company of accessories such as solar chargers, Bluetooth speakers, FM transmitters and camera bags, Accessory Power is making its 10th appearance at International CES.
TabletMan, the Ambassador for Accessory Power, hosts a four-minute presentation at the top of every hour and half an hour where he stands on a podium and "talks" about the new products that the company has to offer. TabletMan's voice is a robotic, but he does have a sense of humor. Though TabletMan cannot answer any questions, his "human colleague" is able to assist.
With an array of new products Accessory Power unveiled at CES 2013, here are the top 3:

GroovePals, miniature animal-shaped speakers. The six animals represent species that are endangered. The GroovePals also come with a smaller option: the GroovePals Jr.
FlexARMOR X line. The heavy-duty bags and cases are perfect for protecting and traveling with your DSLR or digital camera, voice recorder or smartphone.
Solar and battery chargers. The Solar Restore XL+ allows you to charge your smartphone and tablet with the power of the sun. There is also the Restore 4000, a small, portable battery charger that is powered via USB.
Accessory Power and TabletMan will be in the South Hall, 2nd Floor Booth #31862. International CES 2013 runs until Friday, January 11th.
For further information regarding Accessory Power and its products, visit http://www.accessorypower.com
Accessory Power is an American-based manufacturing and distribution company, with offices in USA, Asia and Europe. Since 1980, Accessory Power has been dedicated to manufacturing quality consumer electronic accessories. An important distinction that divides this company is an unrelenting commitment to quality in each step of a product's life; each product is backed by an industry-leading three-year warranty. Accessory Power is proud to say that they are, "The Power Behind Your Electronics