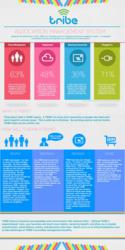 St Louis, MO (PRWEB) January 15, 2013
A TRIBE is a close-knit community of people who share and work toward a common goal. By working smarter and not harder, businesses become more accessible and effective.
TRIBE's association management software helps businesses reach out to people and keep them close. Users are offered a website membership area where members can sign up, edit their profile, and automatically renew with recurring billing. Searching through the membership directory becomes easy, allowing e-mail blasts to be sent out to individuals, groups, or the entire list. Events won't come and go without inviting followers; improved follow-up means less stress for employees. Happier work-places improves focus and clarifies the ability to meet realistic target objectives. When teams perform well, rewards and recognition follow.
Social interaction is vital to a business's growth. Event planning becomes simple as TRIBE can accept payments, print check-in lists, track multiple-sessions, and automatically send out reminders.
TRIBE simplifies communications. Writing content is unbelievably easy with an integrated WordPress blog. Social media integration enables businesses to submit blasts to followers on Facebook, Twitter, LinkedIn, and everywhere else. Since TRIBE is an official press release distributor, targeted messages can be sent out nationwide, increasing the brand's exposure. Finally, businesses are given the ability to add polls and surveys, allowing managers to collect valuable organizational insight on their clients.
Managers often feel supervising an online store is like a trip to the dentist. TRIBE's member management software offers businesses the ability to sell stuff online, take donations, establish fundraisers and campaigns, as well as track money with sophisticated accounting and billing methods.
TRIBE's membership software fosters a dynamic and enjoyable work environment with minimal effort. Utilizing TRIBE's organizational tools, businesses will touch more clients, maximize benefit, and allow effective handling of memberships, subscriptions, events, and payments. Reach out to INSITE ADVICE at info(at)insiteadvice(dot)com to take advantage of TRIBE's management benefits.