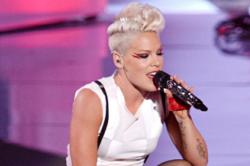 Denver, CO (PRWEB) January 11, 2013
It's been four years since pop star Pink toured North America. Now, to promote her latest album, the Grammy Award-winning singer-songwriter's The Truth About Love Tour is set to kick off in Phoenix, Arizona on February 13, 2013.
From there, North American dates are scheduled in Las Vegas, Los Angeles, San Jose, Houston, Dallas, Orlando, Sunrise, Tampa, Atlanta, Nashville, Auburn Hills, Columbus, Louisville, Chicago, Toronto, Montreal, Washington, Charlotte, Philadelphia, St. Paul, New York, East Rutherford, Uniondale, and Uncasville – with a wrap in Boston on March 28, 2013.
The tour then heads overseas for an April 17, 2013 open in Paris, France. Performances are also scheduled in Germany and Switzerland.
"As Pink's U.S. tour approaches, we're seeing a definite and growing spike in online search traffic for tickets and seats," said Felina Martinez at online ticket marketplace BuyAnySeat.com. "As of yesterday, Pink had climbed to number five on our Most Popular Concert Tickets list."
"Not only are tickets selling out for many of the cities later in the tour, overseas traffic is beginning to pop as well. Since most of Pink's audiences are made up of younger fans, we're proud to be able to offer them a complete selection of Pink tickets, with a worry-free guarantee to protect their purchase," said Martinez.
"To access the constantly refreshed selection of cheap Pink tickets we have available, fans can go to BuyAnySeat.com and search for Pink – then select their tickets," said Martinez.
Last year, Pink played to packed houses around the globe with her over-the-top, circus-themed Funhouse Tour. Since her debut in 2000, the pop star has released seven albums and sold 40 million of them.
In addition, she has sold 65 million singles (nearly 20 million digital tracks), over one million DVDs worldwide and has had 12 singles in the Top 10 on the Billboard Hot 100 Chart. Plus, 15 of Pink's singles have reached #1 in at least one or more countries.
Pink has also won three Grammy Awards, two Billboard Music Awards, five MTV Video Music Awards, two MTV Europe Awards, and two People's Choice Awards. (Source: Wikipedia.com)
Her latest album, The Truth About Love, hit stores on September 18, 2011; and its lead single, "Blow Me (One Last Kiss)", has already shot to the top of music charts worldwide, giving the singer her 12th Top 10 hit. According to her site, the album sums up the star's unique take on the different shades of love, such as the dark, the light, the happy and the sad.
Finally, as if soaring vocals weren't enough, the star is known for her signature stunts and captivating collection of costume changes – as well as her stunning series of show-stopping numbers. Fans are hoping to see more of the same during Pink's long-awaited North American tour.
To shop for cheap Pink tickets, visit BuyAnySeat.com.
About BuyAnySeat.com: An online ticket marketplace, BuyAnySeat.com connects sports, theater and other live entertainment fans to an extensive worldwide network of ticket sellers. The site's simplified listings and navigational tools enable fans to easily locate, compare and purchase inexpensive, discounted or lower-priced tickets to virtually all advertised sports and entertainment events around the globe. The site, which is PCI-compliant and Norton Secured, also provides customers with a complete Worry-Free Guarantee on all ticket purchases. Based in Denver, Colorado, BuyAnySeat.com is a subsidiary of Denver Media Holdings. For more information, please visit http://buyanyseat.com.