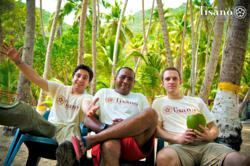 Whether our customers need company logo shirts or custom school shirts, social and professional networks offer a way for them to share their designs and stay up to date on new offers
Philadelphia, PA (PRWEB) January 12, 2013
Businesses that use company t-shirts as marketing and uniforms can now follow Rush Order Tees on LinkedIn for updates and special offers for businesses, non-profits and professional groups. As one of the nation's leading screen printers in both B2C and B2B spaces, Rush Order Tees has expanded its range of services over the past ten years to include custom t-shirt printing, custom embroidery and company logo shirts.
"Groups looking to design t-shirts online and those needing complete design creation will be able to track corporate and group offers that are more unique to their needs." Printfly and Rush Order Tees' Vice President of Marketing and eCommerce, Ron Reed. "While our B2C customers have already started connecting to us on Facebook, Google+, Twitter and YouTube, we wanted to offer a unique experience to our corporate and non-profit customers.
Logo shirts are popular with both large and small businesses as well as many schools and private groups like religious institutions and teams. LinkedIn is a leading social network connecting organizational buyers and decision makers.
"Whether our customers need company logo shirts or custom school shirts, social and professional networks offer a way for them to share their designs and stay up to date on new offers."
Rush Order Tees will continue to update their posts to keep their customers informed of new events and promotions including an upcoming contest to win a New iPad. Corporate and consumer customers will be able to submit their videos and pictures for a chance to win an iPad, free t-shirts and other prizes.
"Both our B2B and B2C customers want us to keep providing the level of service and quality we've offered for the last ten years and we want to continually improve their online experience. Our LinkedIn page will help make the overall web experience more efficient for our organizational customers."
Reed concluded "Our social followers will be the first to hear of new contests and offers. This is just one way of appreciating and thanking our customers who take that extra level of interest in our company and whom we view as partners in our continued growth"
For more details on promotions and events, visit Rush Order Tees on Google+, Facebook, Twitter,LinkedIn or on YouTube under the Company's official Printfly channel.
Contact Rush Order Tees: 1 (800) 620-1233
Hours of Operation: Monday - Sunday: 7:00 am - 11:00 pm EDT
About Rush Order Tees and Printfly
Since it's founding in 2002, Rush Order Tees has expanded its product offering beyond custom printed shirts to include a wide variety of sports, academic, community-driven, commercial and business offerings including company polos, custom business shirts, custom team jerseys, custom printed hats, custom printed sweats, custom college shirts, school jerseys, custom totes, custom aprons, and more.
At the height of its growth, Rush Order Tees acquired a 15,000 SF facility in North East Philadelphia, PA which they equipped with over twenty of the highest quality screen printers, digital printers (DTG Direct to Garment printers), screen exposure units, screen printing heaters and much more.
As the company grew, it continue to offering free nationwide shipping along with "no fee" polices and an industry-leading low price guarantee. Through the years, they've developed a reputation for excellent service, value and quality. Their customers have voiced their allegiance and appreciation across many consumer-driven review sites earning Rush Order Tees overwhelmingly positive online rating and reviews across the leading sites including Google, Superpages, YellowPages, Yelp, Merchant Circle and the Better Business Bureau where they hold a certified A+ BBB Rating.
Built on repeat business and referrals from satisfied customers, Rush Order Tees has grown to be a major leader in the custom shirt printing industry.
Contact Rush Order Tees at 1 (800) 620-1233.
# # #