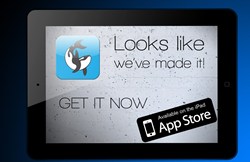 Imagination is more important than knowledge.
Torun, Poland (PRWEB) January 11, 2013
OneMln Ltd. is proud to announce the release of their intuitive task manager EverDo.it, which is now available in the Apple App Store.
EverDo.it synchronises with Evernote, the popular project management application, based on the Getting Things Done time management philosophy. EverDo.it enables the user to create a task from a note in Evernote without tagging. The task can then be scheduled in the EverDo.it calendar or added to a project task list and ticked off when completed.
Karol, the CEO of OneMln Ltd. commented that the release of EverDo.it is a big step forward for both the company and Evernote users. "We are certain that EverDo.it will revolutionise how Evernote is used and will be an invaluable addition to an already exceptional app".
Priced competitively at $5.99, EverDo.it increases user productivity significantly, making it excellent value for money.
OneMln Ltd. has been going from strength in recent months, with projects now continuously coming to fruition. The company is named after its target to reach one million downloads of its innovative applications within one year. With EverDo.it now available in the Apple App Store, OneMln Ltd. are certain to surpass this goal.
For further information on the application please visit EverDo.it.