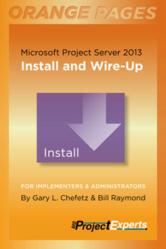 Reduce your time to install and evaluate. We did the learning for you.
New York, NY (PRWEB) January 14, 2013
Deploy Microsoft Project Server 2013 with the most comprehensive installation and configuration guidance available, introducing MSProjectExperts' new offering Microsoft Project Server 2013 Install and Wire-Up, the first in its "Orange Pages" Amazon Single series for the Kindle. Born from the recognized industry bible Implementing and Administering Microsoft Project Server 2013, this Kindle single is a fully-illustrated step-by-step guide to installing Microsoft SharePoint 2013 and Microsoft Project Server 2013 including configuring SharePoint 2013 service applications for Project Server 2013, and installing and configuring Microsoft SQL Server 2012 with Analysis Services.
"Microsoft is releasing its products into the market place earlier than ever. As a result, our readers need access to comprehensive information earlier in the cycle," said Gary Chefetz, co-author. "Our goal is to get this vital information to our readers as rapidly as possible by publishing incrementally through Amazon's Kindle platform" he commented.
"Reduce your time to install and evaluate. We did the learning for you," remarked Bill Raymond, co-author. "Virtual Machine technology, a remote desktop connection and the Microsoft Project Server 2013 Install and Wire-Up eBook are all you need to install Project Server 2013 from home. Do it in your pajamas and no one will even notice!" he added.
MSProjectExperts is the world leader in Microsoft Project and Microsoft Project Server education products and training. MSProjectExperts offers the only Project Server 2013 training, the only validated self-paced computer-based training system for Microsoft Project 2010, and the only validated training for Microsoft Project Server 2010. MSProjectExperts' instructor-led open-enrollment courses are available at its New York City training center, partner sites, and for on-line attendance.
Along with standard and custom on-site training programs, MSProjectExperts provides Project Server deployment consulting, Quick-Start solutions, books, and software add-ons. For more information about MSProjectExperts' suite of services, visit http://www.msProjectExperts.com or email info@msprojectexperts.com