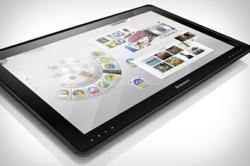 The events showcased an extraordinary diverse group of gadgets and apps, and those that made it to our top 10 lists are sure to find success in the marketplace.
Las Vegas, Nevada (PRWEB) January 11, 2013
As anticipated, Last Gadget Standing and Mobile Apps Showdown were the hottest competitions in town, drawing a packed house, big-hearted applause and a ton of laughs at 2013 International CES®. At the end of it all, Living in Digital Times named Lenovo IdeaCentre Horizon, a 27 inch all-in-one "table PC," and Luminae Keyboard+, a stylish, modern, light-driven fully customizable keyboard developed by young Kickstarter company TransluSense, as the Last Gadget winners. Lenovo captured the online vote and TransluSense edged out the Misfit Shine (Misfit Wearables) for the win at the live event. MyScript Calculator by Vision Objects, a free mobile calculator (iOS, Android) that understands handwriting, took the prize for both the online vote and the live showdown, a first in the history of the Mobile Apps Showdown.
Keeping the crowd going were event hosts Jon Hein and Gary "Baba Booey" Dell'Abate, co-hosts of The Wrap Up Show on the Howard Stern channels on SiriusXM Radio, who brought their inimitable wit and knowledge of all things geek to the festivities. Attendees were treated to presentations complete with Las Vegas showgirls, Jay Leno and Elvis impersonators, a human-size "swipe" foam finger, a virtual dating show, push-up and sit-up competitions, and even a couple of presenters who started out in evening attire and stripped down to bathing suits while digitally monitoring their vitals.
"It was a standing-room-only crowd who loved having their voice heard as the arbiters of good products," said Robin Raskin, founder, Living in Digital Times and event emcee. "The events showcased an extraordinary diverse group of gadgets and apps, and those that made it to our top 10 lists are sure to find success in the marketplace."
Last Gadget Standing 2013 Top Ten Gadgets

DROID DNA by HTC
eFlow E3 Nitro by Currie Technologies
Lenovo IdeaCentre Horizon
Looxcie HD Explore
Luminae Keyboard+ by TransluSense
Misfit Shine by Misfit Wearables
Samsung Galaxy Camera
Samsung Galaxy Note II
SecuraPatch by SecuraTrac
Telcare's Wireless Blood Glucose Meter
Mobile Apps Showdown 2013 Top Ten Apps

Find It! by Brain-New
iMeet from PGi
MindMeld by Expect Labs
MyScript Calculator by Vision Objects
NIVPAT by NIVPAT LLC
Runtastic Fitness App by Runtastic
Sales Navigator by The Casey Group
SecuraFone Health by SecuraTrac
Swype 1.4 by Nuance Communications
Unified Remote by Unified Intents AB
So, how does a product make it to last gadget? How does an app become more than just a statistic and go on to win the showdown? Last Gadget Standing looks for devices (not a service or software) that are pioneering the ways in which the digital world will change, while Mobile Apps Showdown honors the best smartphone and tablet apps across all platforms.
Eligible products and apps were submitted in early December of 2012, and from there, two panels of esteemed judges, tech experts ranging from longtime journalists to investment strategists, to analysts and product reviewers, had the arduous task of selecting the Top 25 semi-finalists for each competition. Judges chose products based on their "sustainability" to make it to the top of the heap. From there, heated discussions ensued and the lists were narrowed down further to the Top 10 gadgets and Top 10 apps that would face the people's vote online and live at CES. Winners of online voting were determined by popular vote, and in person, an applause-o-meter measured audience enthusiasm to determine the winner.
Owned and produced by the Consumer Electronics Association (CEA)®, the 2013 CES will occur January 8-11, 2013 in Las Vegas, Nevada.
About Living in Digital Times
Living in Digital Times produces conferences and exhibits throughout the year that bring together the most knowledgeable leaders and the latest innovations that intersect technology and lifestyle. Among their many goals is to help companies understand what it means to be a consumer in today's digital world and stay a step ahead in identifying key trends in their given marketplace. Living in Digital Times produces the following summits and exhibitions at 2013 CES: CloudBase3, Digital Health Summit, Silvers Summit, Fitness Tech Summit, HigherEd Tech Summit, Kids@Play Summit, MommyTech Summit, Mobile Apps Showdown, Last Gadget Standing, Mommy Tech FashionWare Show and KAPi Awards. Go to http://livingindigitaltimes.com for additional information.
About CEA:
The Consumer Electronics Association (CEA) is the preeminent trade association promoting growth in the $206 billion U.S. consumer electronics industry. More than 2,000 companies enjoy the benefits of CEA membership, including legislative advocacy, market research, technical training and education, industry promotion, standards development and the fostering of business and strategic relationships. CEA also owns and produces the International CES – The Global Stage for Innovation. All profits from CES are reinvested into CEA's industry services. Find CEA online: http://www.CE.org and http://www.DeclareInnovation.com. Follow CES at http://www.CESweb.org and through social media.
# # #