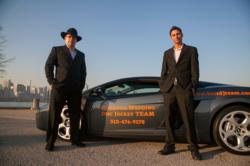 We put smiles on faces, GUARANTEED.
Chicago, IL (PRWEB) January 14, 2013
What does every Chicago bride ultimately want to be able to say about their wedding reception? "It was an absolute blast!"
Most couples go the route of disc jockey entertainment for their reception. And, Chicago couples have a myriad of options available to them. An engaged couple can find it a daunting task to find the perfect Chicago wedding DJ team to fulfill their unique idea of fun. It's particularly difficult to find a DJ team, as most DJ's operate solo.
Nevertheless, most DJ companies, when asked, will probably claim they are up to the task of fulfilling the engaged couple's wedding dreams. The question becomes, "How many of these Chicago wedding DJ companies really stand behind their performance?"
There is one Chicago wedding DJ company that fit the bill: Glenn David Productions.
Their guarantee is: "If the wedding client is not happy, the couple is going on a cruise for 7 days, courtesy of Glenn David Productions."
How is this Chicago wedding DJ company able to give away two, 7 day cruise tickets to the wedding couple if they are not happy? Master of Ceremonies, Glenn Schroeder, answers "We can't afford not to. To be the best, you need to separate your brand apart from everyone else. Neither an amateur nor most professionals would even consider doing what we are doing."
When asked how they differ from everyone else in performance, Schroeder replied, "We flew in a consultant, who owned the largest mobile DJ company in history. And, he completely remodeled how we do things. At this point, I'll put myself and my partner up against any 2 man team on the planet."
Bold words. But, Schroeder and his partner Akib, the world class DJ on this Chicago wedding DJ team, are backing up those words with cruise tickets. That gives a whole new meaning to "We put smiles on faces. Guaranteed."
To inquire about hiring Glenn David Productions' Chicago Wedding DJ team, call 312-305-7303. And, to find out more about Glenn David Productions' services, visit them at glenndavidweddings.com. For media inquiries, kindly contact Glenn David Productions in Chicago at 312-476-9170. Or, email them at press@glenndavidweddings.com.