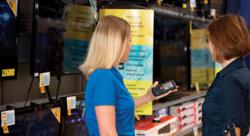 "Datalogic employs technological mobile solutions that go beyond traditional data capture, that can empower workers, sales people and retail managers to improve customer experience," commented Francesco Montanari, VP/GM Mobile Computing, Datalogic ADC
Eugene, OR (PRWEB) January 11, 2013
Datalogic, a global leader in automatic data capture, realizes that improving the shopping experience of customers is a top priority for retailers around the world. Various applied technologies and solutions geared to improving the overall experience of shoppers from entry into the store through their checkout process will be on hand at the Datalogic Booth 1453 during this year's NRF EXPO in New York, January 13 – 16.
Retail store environments vary widely from big box to convenience formats. Today's retailers are faced with offering exceptional service to consumers who enter their stores with product knowledge, pricing, availability and competitive analysis easily found on the Internet. The customer will expect thorough and real-time answers from the store associates. Through the implementation of mobile computers the store associate is able to offer a high level of customer assistance by accessing pricing, inventory levels, product information and specifications, product display location and product availability within the store or one of its branches.
By arming the floor sales associates with mobile computers, tied to wireless payment systems, the retailer is able to move the POS transaction from a stationary checkout stand out to the sales floor. This practice lessens a customer's wait time in a traditional checkout line, and helps the retailer close the sale in an efficient manner that benefits both the consumer and the retailer.
Datalogic mobile computers are able to provide the technological answers needed to enhance the complete retail cycle needs of the market, from backroom inventory control, to customer assistance on the sales floor through to the final consumer checkout experience. The Datalogic mobile computer portfolio includes pocket-sized to full-alpha-keyboard hand-held devices, industrial PDAs, pistol-grip terminals, and a very complete choice of middleware SW solutions, which guarantee the highest level of compatibility to the retail market today.
During NRF Datalogic will demonstrate two of its most recently released mobile units. The LYNX™ PDA, that combines the latest technology in a pocketable and robust package, offers 1D/2D reading options, and many technological features that will make it a "must have" in retail for use in merchandising, pricing, stock management, inventory, assisted sales and gift registries.
Datalogic's Skorpio™X3 mobile computer will also be on hand for demonstration during NRF. This unit is a rugged mobile computer that offers the largest high-visibility touch screen color graphic display (3.2 in) in its class, Microsoft® Windows® Embedded Handheld 6.5 or Microsoft Windows CE 6.0 Operating System, optional keyboards, laser 1D or 2D bar code imaging reading capabilities and the Datalogic patented 'Green Spot'. These attributes make it a great choice to be used for backroom inventory control, shelf replenishment, price management, shipping/receiving assisted sales and line busting.
"Datalogic employs technological mobile solutions that go beyond traditional data capture, something that can empower workers, sales people and retail managers to improve customer experience, while increasing speed and efficiency," commented Francesco Montanari, Vice President and General Manager, Mobile Computing, Datalogic ADC.
Be sure to stop by Datalogic's booth during NRF to see all of the innovative mobile computing solutions available from Datalogic to enhance the total retail experience.
Datalogic ADC, the world leader in Automatic Data Capture, offers state of the art solutions with fixed position retail scanners, handheld scanners and mobile computers. Datalogic ADC's range includes in-counter and on-counter point of sale scanners, general purpose and ruggedized handheld scanners, rugged mobile computers, industrial PDAs and vehicle mount computers. Solutions for applications in several sectors include healthcare, hospitality/entertainment, manufacturing, retail, services and transportation & logistics.
Businesses in the retail sector can particularly benefit from Datalogic ADC's vision-based technology solutions, analytical tools, self-shopping solutions and consumer relationship technologies.
A division of the Datalogic Group, Datalogic ADC is headquartered in the US with a presence in over 120 countries.
For more news and information on Datalogic ADC, please visit http://www.adc.datalogic.com.
Datalogic Group is a global leader in Automatic Identification with a specific focus on the Automatic Data Capture and Industrial Automation sectors. As a world-class total solutions provider and producer of bar code readers, data collection mobile computer and vision systems, Datalogic offers innovative solutions for a full range of applications in the manufacturing, retail, healthcare and transportation & logistics industries. Datalogic S.p.A., listed on the STAR segment of the Italian Stock Exchange since 2001 as DAL.MI, is headquartered in Lippo di Calderara di Reno (Bologna). The Group's recent acquisition of Accu-Sort Systems Inc., a leading supplier of Automatic Identification products and solutions in the United States, has doubled its presence in the Industrial Automation market, escalating Datalogic to undisputed leadership in the Industrial Bar Code Scanners segment with a market share of 31%. Datalogic Group as of today employs more than 2,400 members of staff worldwide, distributed in 30 countries across Europe, the Americas and the Asia Pacific region. In 2011 Datalogic Group achieved revenues for 425,5 million Euro and invested over 26 million Euro in Research and Development with a portfolio of over 1,000 patents across the world.
For more news and information on Datalogic, please visit http://www.datalogic.com.
Datalogic and the Datalogic logo are registered trademarks of Datalogic S.p.A. in many countries, including the U.S.A. and the E.U. Datalogic ADC and the Datalogic Automatic Data Capture logo are trademarks of Datalogic S.p.A. Lynx and Skorpio, are trademarks of Datalogic ADC S.r.l.
Contact:
Pam McQueen
Pam(dot)mcqueen(at)datalogic(dot)com
541-302-2012