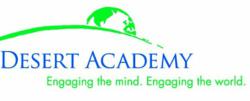 "I've been delighted by the interest that parents of current 5th graders have already shown in Desert Academy," said Head of School Terry Passalacqua.
Santa Fe, NM (PRWEB) January 10, 2013
Desert Academy announced Jan. 7, 2013 that it is adding a 6th grade class to its academic offerings, beginning September 2013. The school has an expanded business page on SantaFe.com, Santa Fe, NM's premier on-line visitor guide and magazine.
"I've been delighted by the interest that parents of current 5th graders have already shown in Desert Academy," said Head of School Terry Passalacqua. "We have had a large number of inquiries from parents of 5th graders this year, so we believe the demand clearly exists. The International Baccalaureate Middle Years Program, which we adopted in 2010 for grades 7 through 10, is actually designed to start in the 6th grade. In addition, we have faculty members who are fully qualified and experienced in teaching 6th graders, so all the signs are in place for the success of this initiative.
"Adding a 6th grade will create an even more vibrant program for our middle school students. It also puts us in the national vanguard, as an increasing number of first-rate secondary schools around the country now start with a 6th grade class. Twice in recent years we've given serious consideration to adding a 6th grade class, but weren't able to, due to our space constraints. Now, with the opportunities provided by our new campus, we are able to undertake this important addition to our offerings."
Admissions Events for Students Entering Grades 6 through 12 and Their Parents -

Desert Academy will hold "Shadowing Days" for prospective students and "Coffees with the Headmaster" for their parents beginning at 8:45 am on Monday, January 14 & 28 and Monday, February 4 & 11.
For information or reservations, call Director of Admissions Isabelle Thiebaut at 505-501-7969.
Media Contact - Kay Rice, Director of Advancement
505-501-7976
Krice at desertacademy dot org
About Desert Academy
Founded in 1994, Desert Academy is a college preparatory school which currently serves more than 170 students in grades 7 through 12. A 6th grade curriculum will be added in September, 2013. The school moved to a new 26-acre campus at 7300 Old Santa Fe Trail in September, 2012. Desert offers the International Baccalaureate's Diploma Program for 11th and 12th grade students and the Middle Years Program in all other grades. The school's commitment to academic excellence is reflected in an eight-to-one student-teacher ratio and an average class size of 12. Cultural and economic diversity is encouraged through a financial aid program which supports more than 40% of attendees. Students participate in 15 extra-curricular clubs and 23 "no-cut" sports offerings, as well as an extensive community service program. For more information, visit http://www.desertacademy.org.
About the International Baccalaureate Middle Years Program
The Middle Years Program is designed for students aged 11 to 16. It provides a framework of learning which encourages students to become creative, critical and reflective thinkers. The program emphasizes intellectual challenge, encouraging students to make connections between their studies in traditional subjects and to the real world. It fosters the development of skills for communication, inter-cultural understanding and global engagement, qualities that are essential for life in the 21st century. The Middle Years curriculum consists of eight subject groups integrated through cross-disciplinary global contexts for learning. Students are required to study at least one foreign language, humanities, sciences, mathematics, arts, physical education, and technology. In their final year, students undertake an independent "personal project" to demonstrate the development of their skills and understanding. For more information, visit http://www.ibo.org.
About SantaFe.com:
SantaFe.com provides locals and visitors to Santa Fe alike the most current interactive platform for events, music, arts, business, dining and lifestyle. SantaFe.com is a division of Hutton Broadcasting, located at 2502 C. Camino Entrada, Santa Fe, NM 87507
Contact Information:
Scott Hutton
SantaFe.com / Hutton Broadcasting
http://www.santafe.com
(505) 471-1067 (Media inquiries only, please)