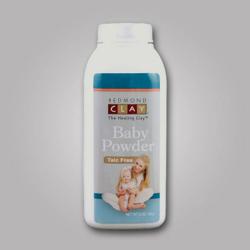 We felt that one area we could better serve our customers was in baby care products
Bakersfield, California (PRWEB) January 11, 2013
SpiritDetox.com (http://www.spiritdetox.com), announces the addition of clay-based baby powder to its existing list of natural health products. The baby powder, which is from Redmond Clay (http://www.redmondclay.com), offers a natural alternative to conventional baby powders which contain harsh chemicals that can damage the sensitive skin of babies. Like all products at SpiritDetox.com, the baby powder contains healing bentonite clay.
The company added the baby powder to extend its products to its youngest customers. "When we considered our customer's needs," stated Albert Milligan of SpiritDetox.com, "we felt that one area we could better serve them is in baby care. A baby's sensitive skin is often irritated by the talc and chemicals in baby care products. By offering our customers the Redmond Clay Baby Powder, we give them an option to keep their babies' skin dry, without toxic chemicals."
The Redmond Clay Baby Powder contains a rare high-desert betonite clay that draws moisture away from the baby's skin, helping to keep it dry and clean, all without containing chemicals or fragrances that can irritate. "This makes it ideal for all babies," said Mr. Milligan, "but especially for those with allergies or extra sensitive skin." The baby powder comes in 3-ounce jars that have a mess-free dispenser.
About SpiritDetox.com
SpiritDetox.com offers an extensive list of quality health, beauty and personal hygiene products that use healing clay to provide alternative treatments and natural self care products. All of the products are made with high quality betonite clay to provide natural healing to SpiritDetox.com's customers. To learn more about detoxing with clay or using clay-based beauty products, visit http://www.spiritdetox.com.