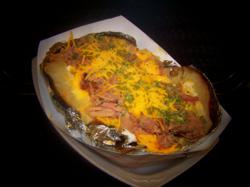 "Everything we do is about our customers, who are like family to us."
Madison, AL (PRWEB) January 12, 2013
LawLers Barbecue Express 6 just opened it's doors on January 4th in Madison, Alabama. That makes a total of 8 locations for the locally owned and operated restaurant chain. Located at 1079 Balch Road Suite I, the new store is a compact design suited more for take-out and drive-thru. Like the other 5 Express stores, it offers tasty hand pulled barbecue at fast food speed.
Owners Phillip and Jerry Lawler and Jim Kelley are quick to give credit to their long term employees and faithful customers. Kelley added "We have been so blessed to be in the Huntsville/Athens area where business has remained strong for us since we began expanding in 2000. Our team of long term employees and managers are some of the best in the industry and deliver our famous Tickled PINK Service to our customers, one at a time. Everything we do is about our customers, who are like family to us."
It also doesn't hurt that they have some of the finest barbecue in the country.
Brothers Phillip and Jerry Lawler have perfected the fine art of hand pulling tender juicy pork to perfection...consistently. All the smoked meats are cooked under the watchful eye of the USDA in Lewsiburg TN. There they are vacuum packed fresh and shipped to their 8 locations, as well as distributed to many convenience stores and restaurants.
You can enjoy your tasty barbecue fixins while you watch TV and country music drowns out the sounds of the frenzied pace in the kitchen. And of course, admire the trademark bass fishin' decor found in every LawLers Barbecue.
Hours of operation are 10:30-8:00 everyday except Sunday, when they are closed "on purpose". No need to call in orders unless there are more than 4 or 5 items, and then the number is 256-217-1767.
Don't let the construction in the neighboring businesses deter you from your appointment with a big ole stuffie tater or a famous pulled pork plate. It's worth the effort.