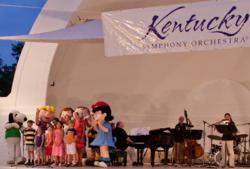 "The program offers a true hybrid blend of well-crafted classical/jazz music that begs to be heard and experienced live." — James Cassidy, KSO Music Director
Covington, KY (PRWEB) January 14, 2013
One of the KSO's three subsidiary groups, together with a few friends, will fuse a variety of jazz and classical styles and sounds, while offering two regional premieres melding the orchestra and jazz quintet. The Floodwall quintet, comprised of musicians Steve Mason, piano, Mike Sharfe, bass, Jim Leslie, drums, Susan Magg, flute and Brian Deyo, guitar, began in the late 1990s to focus on the jazz piano trio suites for flute and guitar by French composer Claude Bolling. His music is eclectic, fresh and very accessible. The quintet is joined by a 34-piece orchestra for the opening and closing numbers of the first set all by Bolling.
In recent years the group added classics by the late Dave Brubeck and Vince Guaraldi to its repertoire. Brubeck passed away last month, a day short of his 92nd birthday. His Modern Jazz Quartet of the late 1950s was labeled avant-garde, as it too created an amalgam of contemporary classical and jazz idioms. Guaraldi's iconic music for the Peanuts television specials of the 1960s added a perfect and universal fit for the Floodwall musicians. In the summer of 2011 the quintet teamed up with the Peanuts Gang from King's Island for a concert in the park that allowed young and old to dance with their favorite characters, while the KSO Kids' (young children of orchestra members) sang of "Christmas Time is Here"
Featured friends on the upcoming program include Tom Guth, cello and Hal Melia, sax with the members of the KSO and Floodwall quintet. Regional premieres by Brent Edstrom and Don Sebesky offer still more sonic color and depth to this classical/jazz fest. Edstrom's laid back"Emerald City," describes Seattle and its thriving jazz scene, while famed Broadway and pop arranger Don Sebesky's "Sebastian's Theme" is appropriately styled after a J.S. Bach flute sonata and written for quintet and orchestra.
When asked about the program KSO Music Director James Cassidy related, "The program offers a true hybrid blend of well-crafted music that begs to be heard and experienced live."
The Composers and their Tunes:
The Ragtime and Jazz music of America was quick to become popular in France just a decade or so into the 20th century. Claude Bolling (b. 1930) was a jazz piano prodigy at age 14 and led his own group, eventually becoming a sought after collaborator with touring American jazz artists. Later fellow classic artists, like flutist Jean Pierre Rampal, cellist Yo Yo Ma and guitarist Alexandre Lagoya requested that Bolling write them a suite to play and record with his trio.
In the Baroque era, a suite was an instrumental collection of dance movements. In the Suite for Flute and Jazz Piano, Bolling affords great fluctuation of mood within the movements caused by the constant dialogue between the jazz and classical elements, which seem to fight, stimulate, mimic and interrupt each other.
Bolling's recording of his first Suite for Flute and Jazz Piano Trio was on the Billboard list of classical best-sellers for over 530 weeks in the 1970 & 80s.
Dave Brubeck, passed away on December 5, 2012 the day before his ninety-second birthday. He was a composer and pianist, a jazz ambassador and a musical explorer. Brubeck was an iconoclast who pushed the bounds of the genre. His music was brainy and catchy at the same time using hummable melodies, odd time signatures, and sophisticated counterpoint.
In 1958 Brubeck's famed quartet visited Turkey. Upon hearing an unusual dance rhythm being performed by street musicians, Brubeck asked the players from where they derived this driving rhythm. One musician replied "This rhythm (the karsilama) is to us, what the blues is to you". In 1959 Brubeck released his biggest selling album "Out of Time" featuring the jazz standard employing the Turkish rhythm aptly dubbed "Blue Rondo à la Turk".
For those into video games, the opening bars of "Blue Rondo.." are also used repeatedly in the battle music of Final Fantasy VII.
Jazz pianist, composer, and arranger Brent Edstrom's active performance career has placed him on stage with many well-known performers, including Clark Terry, Ron Carter, Ernie Watts, John Clayton, Jon Faddis, Bob Berg, Carmen Bradford, Freda Payne, Peter Erskine, and many others. Edstrom's arrangements and compositions have been performed by orchestras across America. His 2006 composition for jazz quartet and orchestra titled "Emerald City" will receive its midwest premiere at these concerts.
In 1950 cartoonist Charles Schultz's Peanuts comic strip appeared syndicated in 7 newpapers around the country. Schultz received $90 a week in royalties. The comic strip and eventually the animated TV specials took on a child-centered view of the world. Adults were not allowed, as the kids, with their own personalities and idiosyncracies, learned more about life and themselves. Lee Mendelson produced the first animated cartoon in 1962. Schultz was a classical music afficianado and may have prefered Brahms for the Peanuts score, but Lee Mendelsson had something a little jazzier and whimsical in mind and approached Dave Brubeck and Cal Tjader. They were too busy with other projects but suggested San Francisco based pianist — Vince Guaraldi.
Guaraldi was a fan of the strip and blended a music that became synonymus with the animation. For 11 years Guaraldi wrote and played for 15 Peanuts specials and 1 feature. In 1976 after finishing a club set with his band Vince Guaraldi collapsed and died of a heart attack at age of 47. "Linus and Lucy" is the signature tune associated with the Peanuts cartoons. "Skating" is from the Christmas special.
Trombonist, pianist, arranger Don Sebesky played in the bands of Kai Winding, Tommy Dorsey, Maynard Ferguson and Stan Kenton. He has worked as an arranger with the London Symphony, the Chicago Symphony, the Boston Pops, the New York Philharmonic, the Royal Philharmonic of London, and the Toronto Symphony. His Broadway theater credits include "Porgy and Bess (London production by Trevor Nunn)", "Sweet Charity", Kiss Me Kate", "Bells Are Ringing", "Flower Drum Song", "Parade", "The Life", "Cyrano", "The Goodbye Girl", "Will Rogers Follies", "Pal Joey" and others. Don Sebesky arranged charts for hundreds of artists including Barbra Streisand, Tony Bennett, Christina Aguilera, Britney Spears, John Pizzarelli, Michael Buble, Seal, Prince, and more.
Don Sebesky recorded Three Works for Jazz Soloists and Symphony Orchestra in 1979. The idea of combining jazz and classical music was an idea that Sebesky, who lives and still works in New Jersey, believes has a lot of possibilities. "Sebastian's Theme" was inspired by a flute sonata by J.S. Bach.
Hear the KSO's Floodwall Jazz Quintet at http://kyso.org/media/audio-recordings/
Join James Cassidy, the Floodwall Jazz Quintet and the Kentucky Symphony
Orchestra, Saturday, January 19 at 8:00 p.m. and Sunday, January 20 at 3:00 p.m.
at the Frances K. Carlisle Performing Arts Center at Notre Dame Academy. Tickets are $35, 27, 19 with children 6-18 receiving 50% off all sections. College Rush tickets available for $15 one hour prior at box office. For more info and tickets call the KSO
at (859) 431-6216 or visit http://www.kyso.org