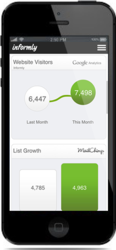 Gold Coast, Australia (PRWEB) January 11, 2013
After releasing their web app last month, small business analytics dashboard Informly have released a free iPhone app for showing charts on the go.
The new app enables users of Informly to view simplified stats from their favorite cloud services (Google Analytics, MailChimp, Xero etc) on the iPhone.
Users can now scroll vertically to view charts from different services or horizontally for charts from the same service giving them the full picture of their business all on the one screen. The vertical scrolling takes full advantage of the new iPhone 5 screen and the horizontal scrolling makes it easy to find different charts from within the same service.
Dan Norris the creator of Informly says he was excited to get the new iPhone version live, "The existing cloud service providers have been pretty slow to adopt mobile analytics so it's a good opportunity for us to get in with a simple app that provides useful data from a bunch of different sources."
The mobile app is free and users can have up to 6 charts on the Informly free plan.
To access the app, business owners can sign up to Informly and configure their charts using the web version then download it from the app store for viewing the charts on the run.
About Informly
Inform.ly is a free tool that provides a 1-page summary of how you are tracking by talking to your favorite cloud services.