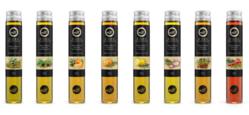 The world's first naturally flavored Arabica coffee bean olive oil.
Chicago, IL (PRWEB) January 15, 2013
Has it ever been a fresh, naturally flavored and not artificially infused extra virgin olive oil in the United States? Probably not, but that is one of the reasons why D'Oro Selections has launched a new fundraising program using the Kickstarter.com platform to meet the funding needed to introduce the product to the United States. D'Oro Selections is looking to raise and hopefully exceed $10,000. In exchange for pledges toward the goal, project backers will receive naturally flavored olive oil under retail value and art print custom aprons.
The creators of the project Eurika and Antonio say: "Nine times out of ten times, we add olive oil to our food. The problem is that as much as 50 percent or more of all the olive oil sold commercially in the United States does not pass the stringent testing standards used to qualify the authenticity of real olive oil. As it turns out, many high-volume, non-certified olive oils may contain various blends of rapeseed (canola) oil, soybean oil, flavoring chemicals, and colorants that give the illusion of real olive oil - but in reality, these oils are nothing but frauds. We believe this is misleading the customer and we are taking a stand against it!"
How D'Oro Selections olive oil is made:
This extra virgin olive oil is produced in the northern region of Spain. The olives that are used for pressing are hand picked and never blended with a different or cheaper variety. They are 100% Arbequina olives, among the most famous Spanish varieties.
As opposed to infused oils, the olives are pressed simultaneously with other fresh and organic ingredients like herbs and fruits, obtaining a good source of natural antioxidants, vitamins and nutrients all good for one selves health. D'Oro Selections offers flavored olive oil with fiery chillies, sweet tangerines, zesty oranges, Mediterranean basil, fresh garlic, fresh rosemary, Mediterranean Lemons, hand-picked thyme, fresh ginger and the the world's first Arabica Coffee Beans.
What is the purpose of D'Oro Selections:
Well that's easy: it is to incorporate classic Mediterranean ingredients into customers' lives, so as to help keep one healthy, happy and well balanced.
D'Oro Selections products are undoubtedly healthy and filled with flavor, so anybody can turn even the simplest salads or dressings into a feast, use it for dipping breads, baking and cooking.
D'Oro Selections branding is a nominee of an "A' Design Award and Competition" for platinum and gold packaging award.
To learn more and to donate, please visit D'Oro selections on Kickstarter: http://kck.st/VPCxgl and be among the first ones to try the world's first coffee flavored olive oil. Created for the most distinguished palates along with the rest of the nine flavors.