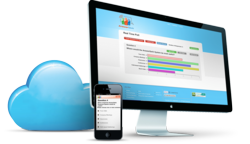 None of this would be possible without the support and feedback from our initial customers and their enthusiasm for the system.
Louisville, KY (PRWEB) January 15, 2013
AnswerQwik, the leading hassle free audience response system provider, today announced the release of its second generation audience response system for live audience polling. The latest release includes significant enhancements that were developed based on feedback from AnswerQwik's early customers, including ESPN, EMC, American Airlines and a number of major conference organizers.
"We believe AnswerQwik delivers the easiest to use and most cost effective Audience Response System available." said Aaron Gani, CEO and Founder, AnswerQwik. "We have added great new features that allow speakers and conference organizers to conduct interactive meetings, further increase audience engagement and deliver significant benefits. These benefits include higher attendee satisfaction, greater likelihood for repeat attendance and increased interaction with speakers. Our customers are also seeing a number of marketing benefits associated with increased speaker interaction derived from our solution. In response to the potential impact of these benefits and additional requests from our customer base we made the decision to invest further in our next generation system."
AnswerQwik listened to customers and intently watched their use of the AnswerQwik software in the first 12 months after the initial release. From this critical feedback the system has been evolved to be even easier to use and contains additional new features. These features include the ability to add images to live polls, capture poll participant email addresses, create polls "on the fly", and a relentless focus on making the solution as simple and easy as it can be.
 
Another big change is the evolution of the pricing model. Previously a monthly contract was needed to use the software.  Now with a straightforward price of just $1 per participant, per event, AnswerQwik is highly disruptive to the audience response market and up to 10x more cost effective than competitors' solutions.
 
"We continue to focus on making AnswerQwik the most feature rich, easy to use and cost effective system on the market," added Mr Gani, "but none of this would be possible without the support and feedback from our initial customers and their enthusiasm for the system. And with our new pricing, there is no need for and Audience Response System rental or purchase." 
Interested parties can sign up with no obligation and conduct free trial events at http://AnswerQwik.com.
About AnswerQwik
AnswerQwik is the leading "hassle free" audience response system.  By using cloud technologies with audience smartphones and tablets the innovative solution removes the need to purchase or rent expensive clickers or software.  AnswerQwik delivers easy to use, cost effective live audience polling that has been proven to raise audience engagement and interactivity. This unique solution enables speakers to be more highly rated by audiences, conference organizers to increase participant satisfaction and marketers to obtain higher post-event engagement. AnswerQwik is an Apptimality company.
Contacts:
Apptimality, Inc.
Aaron Gani, CEO
(502) 777-1593
aarongani(at)apptimality(dot)com