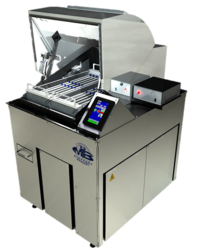 The Tempest saves money by reducing the hospital's exposure to HAIs by eliminating many of the human errors that are introduced with manual cleaning.
Jackson, MI (PRWEB) January 15, 2013
Driven by the healthcare industry's efforts towards green practices and the desire to decrease expenditures for new surgical instrument purchases, facilities look toward reposable surgical instruments rather than disposable, single use devices for their procedures. In addition to finding effective reposable instrument options, healthcare leaders are searching for ways to drive quality up, which will, in turn, drive costs down.
New studies and, particularly the Today Show Segment highlighting the risks of using dirty surgical instruments, expose the possibility of transmitting healthcare acquired infections (HAIs) using poorly cleaned devices. Sterilization procedures and manual washing cannot kill bacteria from bioburden remaining on inadequately cleaned instruments. Over the past year studies have surfaced indicating improper cleaning is one of the main dangers found in a medical facility. Leftover bioburden exposes patients and staff to the risk of contracting healthcare acquired infections (HAIs).
The Tempest Surgical Device Washer was developed by Midbrook Medical, a minority-owned, woman-owned, Michigan-based solution provider to the Healthcare market to address this issue.
A hospital that decides to automate cleaning would incur a one-time purchase of the Tempest, plus annual maintenance costs once the one year warranty has expired. Because the machine is a one-time fixed cost, the cost per instrument would actually be lower if the machine was run more (more cycles per day, more days per week, or more years). The result would be 75,000 to 100,000 instruments cleaned annually with automated, reliable results. Over time the return on investment will increase and the risk of hospital acquired infections will decrease dramatically.
Test results from an independent lab showed that instruments washed by the Tempest surpassed AAMI standards by 400%. If those same 75,000 instruments in the example above were hand-washed by trained technicians, they would be subject to human error. Even if manual cleaning achieved AAMI standards 99% of the time, this would mean that 1%, or 750 instruments, per year would contain bioburden in excess of AAMI standards. These instruments would not be properly cleaned or sterilized. Assuming that only 3% of those dirty instruments actually caused an infection (relying on proactive antibiotic treatments to halt most cases), then the cost to treat infections due to dirty instruments would be $315,000 to $450,000 annually. (Each incidence of an HAI costs a hospital $14,000 - $20,000 on average to treat).
The Tempest provides consistent, repeatable cleaning results through its automated proven process that simply cannot be duplicated manually. Even with conservative estimates, the Tempest quickly pays for itself in labor savings. Because of its proven reliability, the Tempest saves money by reducing the hospital's exposure to HAIs by eliminating many of the human errors that are introduced with manual cleaning.
For more information about Midbrook Medical and the Tempest Surgical Device Washer, visit http://www.midbrookmedical.com. For further inquiries, please call 1-517-787-3481 or send an email directly to sales(at)midbrook(dot)com
Midbrook is not a medical company looking to be a distributer of decontamination equipment. Rather, Midbrook is the world-leader in custom-designed, process-specific cleaning equipment. Midbrook has applied technology and expertise learned in other industries to solve some of the most pressing issues facing healthcare facilities. Visit Midbrook's product page for details on all Midbrook cleaning systems.