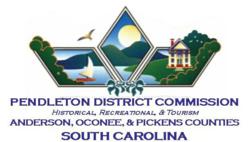 Pendleton, SC (PRWEB) January 11, 2013
Pendleton District is home to the foothills of South Carolina's Blue Ridge Mountains, scenic lakes, and the Jocassee Gorges. In a special edition of National Geographic, 50 of the World's Last Great Places: Destinations of a Lifetime, Jocassee Gorges was featured as the #9 must-see on the list.
According to the South Carolina Department of Natural Resources, the Jocassee Gorges average more than 75 inches of precipitation each year, which results in lush, green forests and diverse plant life. Coupled with the streams that run through the gorges, creating countless waterfalls, the surroundings in Jocassee Gorges attract a large population of diverse wildlife.
The forests, streams, and Lake Jocassee are home to salamanders, white-tailed deer, falcons, and bald eagles. Wildflowers thrive throughout the area, framed by multitudes of rhododendron and the native Oconee Bells, found nowhere else on earth. Visitors can walk amidst these animals, plants, and water-features by hiking on one of the region's numerous trails.
The Pendleton District is the historic name for the region that is now made up of Anderson, Oconee, and Pickens Counties of South Carolina. This region is the site for many historic places worth exploring, dating back to Revolutionary War times. Local events and festivals run year-round, immersing visitors in the local culture, unique outdoor places, and surrounding cities. Thrill-seekers can hike, camp, hunt, or engage in world-renowned whitewater sports. The district offers endless opportunities for every visitor.
About the company:
Pendleton District Commission is an organization that supports the arts, history, travel and tourism throughout Anderson, Pickens, and Oconee Counties.
The Pendleton District Historical, Recreational, and Tourism Commission was established in 1966 by the South Carolina Legislature to promote historic preservation and tourism in Anderson, Oconee, and Pickens Counties of South Carolina. The Commission is made up of nine Commissioners, with three nominated by the Legislative Delegations of each of the three counties represented. For more information, please visit their site at http://www.pendletondistrict.org.