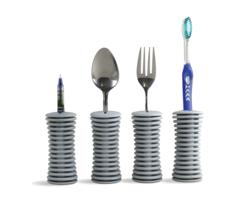 Increasing the diameter of (a utensils) handle makes it easier to hold and helps reduce pain and cramping.
Wayne, NJ (PRWEB) January 14, 2013
Arthritis and reduced hand function often make some daily living activities difficult to perform. "This," Kathleen Hanek, Director of Product Management for Maddak Inc., manufacturer of Ableware® Aids for Daily Living, states "is especially true when it comes to eating, and can compromise a person's ability to live independently." The Universal Built-Up Handle is an easy 'Do It Yourself' solution designed to enlarge the gripping surfaces of many common household items including eating utensils.
Hanek explains "Most handles on traditional flatware have relatively small diameters making them difficult, painful and sometimes impossible for a person with arthritis or other hand limitations to grasp. Increasing the diameter of the handle makes it easier to hold and helps reduce pain and cramping." The Universal Handle is a soft, flexible, curved built-up handle that easily slips onto the handles of ordinary stainless steel spoons, forks and knives instantly creating a larger grasping area. A simple 'twist and lock' feature ensures that the utensil is securely seated in the handle and will not become dislodged.
The Universal Handle features a straight slot on one end and a star shaped slot on the opposite end enabling it to be used on a variety of every day household items of different shapes and diameters such as pens, pencils, toothbrushes, crochet hooks and knitting needles in addition to cutlery. "This versatility allows the user to utilize the flatware they already own, reduces the need for individual specialized utensils, saves on storage space and enables a person to easily take it along when travelling, eating at a restaurant or visiting family and friends," adds Hanek.
The Universal Built-Up Handle, item 74630-0000, can be used on items with widths from ¼" to 1" and measures 1 ¾" in diameter. Handles are sold in bags of four with a suggested retail price of $18.99. For additional product information go to http://www.maddak.com. For a copy of the Maddak catalog or a list of local dealers write, call, fax or email: Maddak Inc., 6 Industrial Road, Pequannock, NJ 07440-1993, Tel: 973-628-7600, Fax: 973-305-0841, Email: custservice(at)maddak(dot)com or visit the Maddak web site – http://www.maddak.com.
About Maddak
Maddak Inc. manufactures products that simplify the tasks of daily living – eating, drinking, dressing, grooming, bathing, toileting, etc. – for seniors, people with disabilities and people undergoing rehabilitation. The company mission is to provide quality products that enable people to maximize their independence and remain active despite any limitations they may face. Marketed under the Ableware® brand name, the Maddak product line includes over 500 products sold through medical and hospital supply centers, pharmacies, homecare centers and internet outlets. Established in 1971, Maddak Inc., headquartered in Wayne, NJ is the largest U.S. manufacturer of assistive devices, clinical modalities and home healthcare and rehabilitation products.
# # #