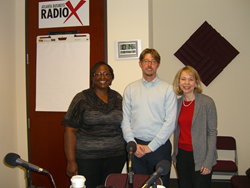 The association fosters the development and growth of fundraising professionals...
Atlanta, GA (PRWEB) January 14, 2013
On January 10, 2013, BusinessRadioX®'s Atlanta Business Radio welcomed to the studio members of the Greater Atlanta Chapter of the Association of Fundraising Professionals. Co-hosts Lee Kantor and Stone Payton sat down with Lisa Kennedy from the Bobby Dodd Institute, Maryum Lewis with Quality Care for Children, and Jamie Tobias with Piedmont Healthcare Foundation to discuss fundraising strategies in the nonprofit sector.
The Greater Atlanta Chapter of the Association of Fundraising Professionals is a local chapter of a professional association representing nearly 30,000 members in 231 chapters throughout the world. AFP volunteers and staff work to advance philanthropy through education, training, mentoring, research, credentialing, and advocacy. The association fosters the development and growth of fundraising professionals and promotes high ethical standards in the fundraising profession.
AFP Greater Atlanta promotes professional development, networking and volunteer opportunities for those working in the fundraising arena. With over 400 members, AFP Greater Atlanta reflects a cross-section of Atlanta's nonprofit community, as well as the consultants and resource partners who serve the industry. They welcome professionals at all career levels from organizations of all sizes.
Lisa Kennedy, Past President of AFP Greater Atlanta, described the majority of Atlanta members as "representatives of 501(c)(3) nonprofit fundraising organizations." Kennedy is with the Bobby Dodd Institute, originally started in 1960 as a program at the Atlanta Alliance on Developmental Disabilities (AADD), which was then known as Atlanta Retarded Citizens. The purpose of the program was to provide hands-on job training to individuals with disabilities. In 1989, the program spun off from AADD to become the Bobby Dodd Industries. The new organization was named in honor of Coach Bobby Dodd of Georgia Tech, a football legend and tireless advocate for people with disabilities. In 2000, Bobby Dodd Industries changed its name to Bobby Dodd Institute to more accurately reflect the learning nature of its program.
Joining in the discussion was Maryum Lewis with Quality Care for Children, and the Vice President of Diversity of AFP Greater Atlanta. According to Lewis,"Today, nearly 400,000 of Georgia's children under the age of six are in the care of someone other than their parents -- for as much as 10 hours a day, and that number grows every year." Quality Care for Children's mission is simple - to ensure Georgia's infants and young children are nurtured and educated when they are not in the care of their parents.
Rounding out the group was AFP Greater Atlanta's Membership Chair, Jamie Tobias with the Piedmont Healthcare Foundation. Tobias is focused primarily on sustained and annual giving for Piedmont, and describes his fundraising skills and techniques to be "much like sales and marketing skills."
In 1976, the Piedmont Hospital Foundation was established to focus fundraising efforts of private support to be a distinct strategic advantage for Piedmont Healthcare. In 2011, the Piedmont Hospital Foundation was renamed as the Piedmont Healthcare Foundation to serve all of Piedmont's entities. The Office of Philanthropy is a department of Piedmont Healthcare, Incorporated. The Piedmont Healthcare Foundation's Board of Directors oversees the activities of the Office of Philanthropy.
To learn more about AFP Greater Atlanta and these featured guests, tune in to this episode at Atlanta Business Radio.
About Stone Payton:
For over 24 years, Stone Payton has been helping organizations and the people who lead them drive their business strategies more effectively. He is a Managing Partner at BusinessRadioX® and the author of SPEED®: Never Fry Bacon In The Nude: And Other Lessons From The Quick & The Dead, and has dedicated his entire career to helping others produce better results in less time.
About Lee Kantor:
Lee Kantor has been involved in Internet radio, podcasting and blogging since he started the Dr. Fitness and the Fat Guy show in 2005. Since then, Lee has interviewed well over 1000 entrepreneurs, business owners, authors and celebrities on a variety of shows and at live events. In addition to his hosting duties, Lee is a Managing Partner at BusinessRadioX® and is committed to helping entrepreneurs and business owners in Atlanta learn how to use radio to dramatically grow their businesses.
About Atlanta Business Radio:
http://www.atlantabusinessradio.businessradiox.com
Each week, from the BusinessRadioX® studio in Sandy Springs, Lee Kantor and Stone Payton interview Atlanta, Georgia's top businessmen and businesswomen to learn what makes them the best at what they do.
About BusinessRadioX®:
BusinessRadioX® provides a turnkey solution for business owners who want to leverage the power of internet radio to meet their best prospects, establish credibility for their organization and heighten the placement of their brand in search engines rankings. With a professional venue and a proven formula, BusinessRadioX® helps hosts podcast their shows and create a regular stream of dynamic content to share with their prospects and feed the search engines every week. Programs are recorded and streamed live to the internet from our studios in the greater Atlanta area. For more information or to hear a live show, visit: http://www.businessradiox.com.