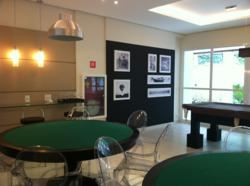 This apartment feels much better than the flat I was in. It feels like home and much more relaxed. (Hugo-an Avenida Suites Guest)
Sao Paulo, Brazil (PRWEB) January 14, 2013
These new serviced flats in Sao Paulo at Vision Brooklin are not of the typical furnished flat style. Rather, these "flats" are actually full size, very comfortable, corporate style apartments. The typical flat in Sao Paulo for rent on a temporary basis is a small suite or one to two room apartments usually containing just a kitchenette, with minimal dishes and cooking utensils, communal laundry facilities, and located in a hotel type building. On the other hand, most of Avenida Suites Brazil's "flats" in Sao Paulo and other cities in Brazil contain more space, full size kitchens with full sets of dishes and cooking utensils, and almost always have a laundry area inside the apartment.
With the addition of this new location, Avenida Suites Brazil is again redefining the serviced flat in Sao Paulo. At Vision Brooklin, the "flat" or corporate apartment options range in size from a one bedroom, one and half bath apartment with 52 square meters of living space, a large private balcony and separate laundry facilities, to a three bedroom, two and half bath 110 square meter apartment with private balcony and separate laundry facilities. Also offered is a two bedroom, two and half bath apartment with the same features at 80 square meters. Each apartment also has a reserved parking space for the smaller apartments, and two or three spaces for the larger apartments.
All of these serviced flats at Vision Brooklin include a full furniture package, full kitchen package, all linens, towels, and also high speed wire-less internet service, cable TV, and local phone. Avenida Suites Brazil offers all of its flats in Sao Paulo, including these new ones at Vision Brooklin, for a simple, all-inclusive price, that includes all of the items just mentioned plus all condominium fees, local taxes, all utilities, regular cleaning services, and any other fees that might be associated with the particular apartments. This makes it very easy for companies and individuals to budget as they know there is one single price each month for their temporary stay.
Avenida Suites Brazil is truly changing the paradigm for temporary housing and furnished flats in Sao Paulo by including everything into a package deal, saving individuals and companies time, money and frustration. The alternative to what Avenida Suites Brazil offers is still available, but why would someone want to spend the extra time negotiating with individual property owners, paying deposits or securing a guarantor, plus connecting their own utilities, TV and internet service, plus all of the other things one would need to do when renting through a listing agency or from an individual owner. Also, Avenida Suites Brazil does not require deposits or Brazilian identification in most cases.
The paradigm shift is happening so for those companies or individuals in need of a flat in Sao Paulo or other area of Brazil, they only need to visit Avenida Suites Brazil's website to see just how simple they are making this process with the ease of making reservations, remitting payments, or obtaining service for maintenance. Their care and attention does not stop once the arrival happens as their friendly staff continues to take care of each guest during the entire stay, even if the guest may might just have a question about the best place for lunch near their apartment.
About Avenida Suites Brazil
Avenida Suites Brazil is a rapidly growing provider of corporate apartments and serviced flats headquartered in Sao Paulo Brazil. Avenida Suites Brazil continues to expand its reach and capability opening new offices in locations around Brazil and South America. It's fully furnished and serviced apartments range in size from one to four bedrooms and includes a full array of packages to meet the style, budget, and needs of any type of traveler. For more information on how Avenida Suites may be able to help you or your company with temporary housing or serviced flat needs in the United States or Brazil call 1-888-553-9943 for U.S needs or 55-11-3958-8733 for Brazil or visit either website at http://www.avenidasuites.com or http://www.avenidasuitesbrazil.com.