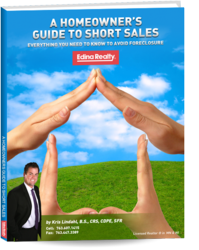 An informed public is a smarter public.
Blaine, MN (PRWEB) January 11, 2013
Edina Realty's experienced agent Kris Lindahl will be hosting a short sale strategies meeting in Excelsior, MN over the weekend. Reservations will be taken through Saturday morning. Walk-ins are welcome as well. Lindahl is Edina Realty's number one short sale agent. He will highlight the many steps of the short selling process in an easy-to-understand presentation using past examples of his experience. Lindahl will also show the crowd how to make the most of technology in real estate.
Lindahl has created several online resources available to the general public. These will be explained at the seminar. The Excelsior, MN seminar is part of a larger campaign launched by Kris and his team to relay information to the public that was previously known only to real estate professionals. "An informed public is a smarter public," Kris Lindahl said.
The Kris Lindahl Short Sale Team is made up of several full-time Edina Realty realtors with the following designations: Certified Distressed Property Experts (CDPE), Short Sale & Foreclosure Resources (SFR), Council of Residential Specialists (CRS).
Call Kris and his team at (763) 607-1415 for more information, Visit the Minnesota Short Sale Calculator website to check eligibility. Download a complimentary copy of the eBook titled "A Homeowner's Guide To Short Sales" and check out the video series on YouTube.