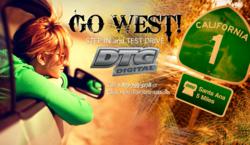 DTG, Rhinestone, Embroidery Goes West
Santa Ana, California (PRWEB) January 15, 2013
ColDesi Expands DTG Printer and Rhinestone Transfer Machine Business into California
Coldesi, Inc., a national apparel decorating equipment supplier based in Tampa, FL announced today that it is opening a Demonstration and Training office in Santa Ana, California in January.
The company is expanding into California following very high customer demand for its DTG line of Direct to Garment Printers and Rhinestone transfer systems called CAMS Machines. According to Management, after the launch of 2 new websites; http://www.rhinestonecamsmachines.com and http://www.dtgprintermachine.com, they receive more inquiries from California, and the Los Angeles area in particular, than any other state except for Florida.
Both DTG Printers (direct to garment printers) and CAMs Machines are typically used to produce customized t-shirts and other clothing items by small and large businesses.
DTG Printers use an inkjet technology that allows the user to print high quality images from their computer directly onto textiles, including t-shirts. Many online businesses located in California already, like Zazzle and Café Press, use this technology in their production.
CAMS Machines produce rhinestone transfers, which are then heat pressed or ironed onto t-shirts to create the increasing popular rhinestone clothing designs that many schools, charities and dance studios use to promote their cause, business, or events.
ColDesi's new Santa Ana office will have the capability to demonstrate and train users on both sets of machines. Current products on display are the DTG M2, the flagship of the direct to garment printer line, the DTG Viper, the most popular DTG product and the CAMS 1V2P Rhinestone machine. The office will also be able to host video conference demonstrations of other apparel decorating products not on premises.
Customers can schedule their own demonstrations and training classes with ColDesi online at: http://www.coldesi.com/coldesi-southern-california-office.html
For more information contact:
Mark Stephenson
The Colman Family of Companies
5409 S. Westshore Blvd,
Tampa, FL. 33611
1-800-891-1094