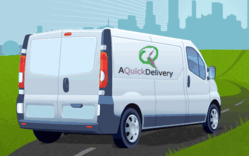 Atlanta, GA (PRWEB) January 14, 2013
AQuickDelivery, a recognized leading courier in same-day delivery and transportation services, announces Daily Mail Delivery Solutions. The announcement comes as an effort to comprehensively meet the daily operational mail delivery needs of its' clients and also to expand its' current customer base. AQuickDelivery continually pursues to be the best choice for courier logistics solutions nationwide.
AQuickDelivery will retrieve and manage all of their clients' inbound and outbound mail, including various-size packages. AQuickDelivery can pick-up or deliver mail to any post office within the 13-County Atlanta Metro Areas. Businesses with multiple locations can also receive affordable inter-office mail and paper transfer solutions. This type of convenience in service enables its' clients to increase their operational efficiencies.
The Atlanta courier offers private mail center services on a scheduled delivery and/or on-call basis. Scheduled deliveries can be daily, biweekly or both. Customers will have the option of their mail delivery solution to be set up any time of day. On-call deliveries will be provided to its' clients on an as needed. Interested clients are welcome to call AQuickDelivery and speak with a Private Mail Center Specialist or send a contact request via e-mail to sales (at) aquickdelivery (dot) com. AQuickDelivery is also available 24/7 to its' customers for any mail service questions or delivery assistance.
AQuickDelivery is a leading same-day delivery courier offering superior transportation and distribution services. From small packages to palletized freight, AQuickDelivery can meet all of your delivery needs with timeliness and speed. Based in Atlanta, Georgia, the company successfully provides courier service solutions to over 1,500 clients, including Fortune 500 Companies nationwide.