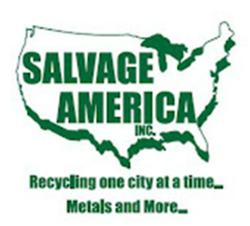 Greensboro, NC (PRWEB) January 11, 2013
Salvage America, Inc., a leading recycling center in Greensboro, North Carolina, is pleased to announce that it has launched a new marketing campaign to announce company news and create an increased awareness of its comprehensive array of recycling services. The recycling center provides full-service recycling of scrap metal and much more for residential, commercial and industrial customers.
"Press releases are a new venture to Salvage America. We are moving into the digital age, reaching out to small, medium and large companies to let them know about our quality services," said Chris Triolo of Salvage America, Inc. "We can provide onsite consulting and analysis of any product that you want to recycle. We provide competitive prices on all metals and tailor our process to your operation to maximize recycling, recovery, efficiency and revenue generation."
Salvage America, Inc. is a privately owned company that has provided quality recycling services to the Triad since 2005. They are always looking for new materials to pull out of the waste stream and pay competitive prices on a wide array of metals, including ferrous-scrap steel, cast iron, appliances, vehicles, non-ferrous copper, aluminum and brass. The recycling center accepts projects of all sizes and is dedicated to "recycling one city at a time." For complete information about all Salvage America, Inc. services, visit their website at http://www.salvageamericaus.com or call (336) 272-3820.
About the company:
Salvage America is a privately owned and operated company that has been providing a quality "Green" service since 2005. They are a one stop service for all commercial, industrial and residential recycling needs- Scrap Metals and much more. Please ask them about their E-waste program. They pay competitive prices, please call for a quote. For more information, please visit their website at http://www.salvageamericaus.com.