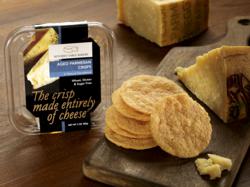 Syosset, NY (PRWEB) January 14, 2013
At the 38th Annual NASFT (National Association for the Specialty Food Trade) Winter Fancy Food Show, attendees will peruse the show floors for items that reflect projected food trends for 2013. For those looking for gourmet food items that curb cravings in smaller quantities, and allow for more frequent snacking, look no further than Kitchen Table Bakers' 100% Aged Parmesan Crisps at Booth 2920 in the South Hall of Moscone Center for the Winter Fancy Food Show in San Francisco, Calif. from January 20 to 22.
"Over the last decade we have managed to keep our 100% Aged Parmesan Crisps at the forefront of the gourmet market by consistently demonstrating our commitment to bake with only the finest, all-natural ingredients," says Vice President of Kitchen Table Bakers, Seth Novick. "Our very precise recipe produces a gluten, wheat, sugar and trans fat free snack that provides a taste and texture like nothing else currently on the market."
The line of 100% Aged Parmesan Crisps, which spans nine flavor varieties, has not gone unnoticed by esteemed food authorities like that of the National Association for the Specialty Food Trade. The family-owned company based out of Long Island has received 10 sofi™ Awards – a most coveted recognition in the specialty food industry – in just over nine years. The crisps have succeeded in the following categories: "Most Outstanding Diet and Lifestyle Product" for 2009, "Most Outstanding Cracker" for 2010 and 2011, and "Most Outstanding Food Service Item" for 2011.
"The success of our product is largely due to the fact that we have made available a gluten-free item that doesn't taste like cardboard," says President of Kitchen Table Bakers, Barry Novick. "It is rare to provide those who are looking for healthier snacking options, or products to meet their dietary restrictions, with a product that also satisfies their discerning tastes. They are absolutely rich in flavor while still providing the recommended daily dose for calcium and also seven grams of protein. It's a win-win for the consumer."
Phil Lempert, known Supermarket Guru and television personality, projects that consumers will gravitate toward smaller bites and more frequent eating patterns as a means to help reduce overall portion size and increase variety. Buyers and media at the 38th Annual NASFT Winter Fancy Food Show who are looking for the best gourmet product on the market to adhere to this trend, can visit with Kitchen Table Bakers at Booth 2920 in South Hall of Moscone Center January 20 to 22 and learn more about their line of 100% Aged Parmesan Crisps. For additional information, please visit http://www.kitchentablebakers.com.
# # #
About Kitchen Table Bakers
Kitchen Table Bakers, founded in 2003, crafts nine varieties of gourmet Parmesan cheese crisps, including Aged Parmesan, Sesame Parmesan, Rosemary Parmesan, Italian Herb Parmesan, Garlic Parmesan, Jalapeno Parmesan, Everything, Basil Pesto Parmesan and Aged Parmesan Mini Crisps. All Kitchen Table Bakers products are gluten, wheat and sugar free. The company's products have been recognized by the National Association of the Specialty Food Trade (NASFT) with five silver sofi awards and four gold sofi awards, which acknowledge the best food and beverages the specialty food trade has to offer. To learn more, visit http://www.kitchentablebakers.com.