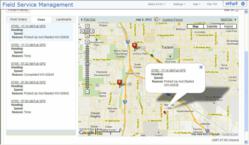 We are very pleased with the results AQB has achieved, and especially for the excellent return on investment by our subscribers.
Tualatin, OR (PRWEB) January 13, 2013
Corrigo Incorporated, a leading provider of on-demand service management solutions, announced today that AQB Inc., one of the top Intuit Premier Resellers with headquarters in Austin, TX, is also being recognized by Corrigo as the nation's leading reseller of Intuit Field Service Management, a web-based SaaS (Software as a Service) product that integrates seamlessly with QuickBooks accounting software.
Intuit Field Service Management, powered by Corrigo, is a cloud-based software solution that helps small business owners in the field service industry gain more control over their technicians, customers, cash flow and costs. Primary features include work order dispatching, inventory tracking, instant billing and acceptance of mobile payments, and total visibility with reporting tools and custom dashboards.
In addition to AQB's successful sales efforts and expertise in deploying Intuit Field Service Management to numerous service businesses across the country, AQB has also become the only partner to extend and integrate the software beyond the box: "As an Intuit Premier Reseller, AQB is not only authorized to resell Intuit Field Service Management, but is also the sole Intuit Partner who is trained and authorized to build custom integrations through our web services," said David Baldi, Integration Services Manager at Corrigo.
Mike Simons, Sales Manager at Corrigo adds: "We are very pleased with the results AQB has achieved, and especially for the excellent return on investment by our subscribers. AQB follows a highly consultative, hands-on approach and does a tremendous job selling and deploying Intuit Field Service Management, as well as provides excellent training and customer service. We are thrilled at the prospect to grow and continue this successful joint venture with AQB."