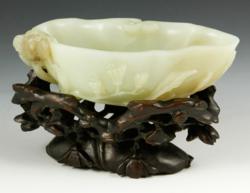 Beverly, Massachusetts (PRWEB) January 13, 2013
Among the top lots of the auction are two jade pieces. The first is a Chinese jade brush washer, estimated to sell for between $1,000 and $1,500. A lotus flower forms the main body of the sculpted jade piece, which is further decorated with a pair of bats and a pair of peaches. The 1.5" x 5.75" piece rests on a wooden stand carved in the shape of roots. The second jade piece is similarly well sculpted. This white jade has been carefully crafted into the form of a crouching foo lion holding a coin.
In addition to the jade pieces, the auction will also offer a fine collection of twenty ivory and polychrome birds. The birds are Japanese in origin and most bear the signature of their maker. These impressive birds are estimated at $1,200 to $1,800.
A fine bronze Japanese urn of the Meiji period will also be offered for sale estimated at $2,500 to $3,000, it is signed on the base of the vessel. The body of the urn features a pair of dragons and a woman playing a musical instrument. Inlaid gold highlights the eyes of both dragons, as well as the surrounding flower petals. On the reverse is a phoenix amidst a landscape, topped by an eagle form cover that completes the urn.
The auction will also present another remarkable signed famille rose vase. Beautifully painted the vessel is in the characteristic warm color palette, depicting figures in a landscape. This distinctive signed piece is estimated to sell for $2,000 to $3,000. There is also a pair of 19th century Chinese famille verte vases, the square baluster form decorated with a pair of ribbon-tailed birds and a pair of cranes, the rest similarly decorated with birds, flowers and insects, from a New York collector at the same estimate. Also beautifully decorated is a cloisonné Chinese clock from the early twentieth century, this intricately enameled metal clock is estimated at $800 to $1,200.
Paintings will hold an important place in the sale as well. A twentieth century Chinese painting by Gao Yan, oil canvas, portrays a young woman delicately swathed in a white dress. Perhaps the most striking aspect of the work is the inspired knife work with which Gao Yan subtly mottled the ambiguous background. This skillfully rendered painting is entitled "The White Dew". A Brian's Coole work titled "Ships in the Hong Kong Harbor, looking towards Macao" is another noteworthy oil painting in the auction. The British painter's work is estimated to fetch between $4,000 and $6,000.
These featured items will be joined by many other noteworthy pieces, including more famille rose works, fine chests, and ivory in Kaminski Auctions' Asian Art and Antiques auction on Saturday, January 26, 2013 starting at 10:00 am at their auction gallery, 117 Elliot Street, Beverly, Massachusetts. Preview for this sale begins Wednesday, January 23rd and runs through Friday, January 25th, 10:00am-5:00pm, and at 8:00am day of sale. Bid online through Live Auctioneers.com and Artfact.com. For more information, go to http://www.kaminskiauctions.com or call 978-927-2223.