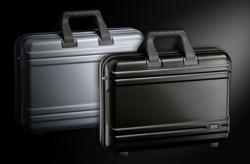 The ZW210 Computer attaché is now available for purchase!
Piscataway, NJ (PRWEB) January 11, 2013
Due to the popularity of their sold out 4" computer attaché, Zero Halliburton is excited to introduce ZW210, which is now available for purchase in both black and silver. The ZW210 is designed for the business executive on the go.
The ZW210 Computer attaché is made from 100% polycarbonate shells styled using the classic Zero Halliburton double ribbed design. This lightweight case features custom handles, detachable shoulder strap, and a zippered business lined interior with a laptop compartment that can fit most notebook computers and opens flat for easy access.
About Zero Halliburton
Since 1938, Zero Halliburton has set the standard for protection and durability using only premium materials combined with outstanding craftsmanship becoming an icon for strength, security, endurance and fashion within the travel goods industry.