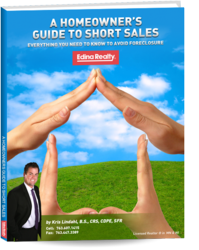 I have exclusive access to software that gives me the edge.
Blaine, MN (PRWEB) January 11, 2013
The Green Tree Servicing short sale seminar held yesterday afternoon by Edina Realty's experienced agent Kris Lindahl in Blaine, MN was well attended. Lindahl is Edina Realty's number one short sale agent. Lindahl used his experience with the lender to recreate a short selling process in a step-by-step manner. Kris used the guidelines and requirements set by Green Tree Servicing to structure his presentation.
The presentation began with Kris specifying what documents Green Tree requires including a hardship letter, pay stubs, and tax forms. From there Lindahl highlighted the importance of picking the right agent. To end the presentation Lindahl discussed how the agent and a representative from Green Tree will agree on a selling price and write up a short sale approval letter.
Kris Lindahl believes that the best technological tools are necessary to buy or sell a home. "I have a technological advantage over other agents,"Kris says, and continues,"I have exclusive access to software that gives me the edge."
Call Kris and his team at (763) 607-1415 for more information. Visit the Minnesota Short Sale Calculator website to check eligibility. Download a complimentary copy of the eBook titled "A Homeowner's Guide To Short Sales" and check out the short sale video series on YouTube.