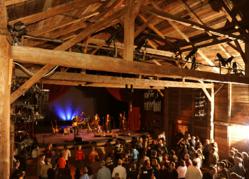 Vienna, Virginia (PRWEB) January 11, 2013
Gin Blossoms
Wednesday, January 16 at 8 pm
$45
Gin Blossoms
American pop-rock icons Gin Blossoms return to Wolf Trap for their first appearance at The Barns. The Arizona-brewed band began performing together in 1987 and quickly gained recognition as one of the best live acts in the area. This local success was followed by their major label debut album in 1991, New Miserable Experience, which was packed with various chart-topping singles, including "Hey Jealousy," and "Found Out About You." The band also released another mainstream album, Congratulations I'm Sorry (1996), before disbanding in 1997. Gin Blossoms reunited five years later and began work on the critically acclaimed record Major Lodge Victory (2006). The band's current lineup features Robin Wilson (lead vocals), Jesse Valenzuela (guitar), Bill Leen (bass), and Scott Johnson (guitar). Their latest album, No Chocolate Cake (2010), debuted at no. 73 on the Billboard 200 chart.
Video: Gin Blossoms – Hey Jealousy
International Guitar Night
Thursday, January 17 at 8 pm
$25
International Guitar Night
Back for the second year in a row, International Guitar Night (IGN) will once again bring an astounding group of innovative acoustic guitarists to The Barns at Wolf Trap stage. Since it began in 1995, the celebrated festival features a new cast of highly gifted guitarists on every tour, showcasing the palpable virtuosity and diversity within the world of acoustic guitar. This year's stellar lineup includes Scotland's Martin Taylor, Solorazaf from Madagascar, Celso Machado from Canada via Brazil, and IGN founder Brian Gore. The artists will perform in solos, duets, and quartets, combining their abilities to master the classical, jazz, contemporary, and world music genres.
Video: Adrian Legg and Brian Gore Perform Lulo Reinhardt's ASIA
Christopher Cross
Friday, January 18 at 8 pm
Saturday, January 19 at 7:30 pm
$45
Christopher Cross
Texan singer/songwriter Christopher Cross returns to The Barns at Wolf Trap following his appearance in the spring of 2012. Cross's musical career began in the early '70s as a member of a cover band in San Antonio. He eventually landed a solo deal with a major label, which led to the release of his self-titled debut album in 1979. This project proved to be extremely successful, garnering four hit singles and five GRAMMY Awards for the artist. Cross also cowrote and recorded "Arthur's Theme (Best That You Can Do)," which was the theme song for the film Arthur. The single won both the Academy Award and the Golden Globe Award for Best Original Song in 1981. Since then, Cross has released 11 albums, four compilation records, and contributed to the soundtracks of several TV shows and films.
Video: Christopher Cross – Sailing
Tickets can be purchased by calling 1(877)WOLFTRAP; or online at http://www.wolftrap.org.
For more information, call The Barns at Wolf Trap at (703) 938-2404 or our general information line at (703) 255-1900.