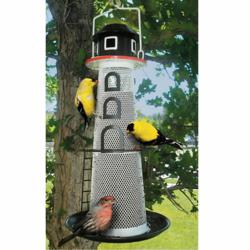 No No Wild Bird Feeders are all metal - no plastic, no wood. This feature alone, makes them a birders dream!
Lititz, PA (PRWEB) January 12, 2013
Bird enthusiasts are always searching for durable, long-lasting feeders that are worth the money, allowing them to enjoy their favorite hobby year after year. Now that Birdfeeders.com offers No/No Wild Bird Feeders™ enthusiasts don't have to look as hard. No/No feeders can now be purchased by bird lovers with ease through a trusted, well-known source like Birdfeeders.com - the leading online bird shop!
No/No feeders get their name because they have an all-metal, recyclable construction, containing no wood and no plastic. These feeders also boast other appealing features including:

No assembly - easy to hang and fill
Attractive styles in designer colors
Large capacity - meaning fewer refills
Larger feeding area that accommodates all varieties of birds
Great gift idea
Patented mesh and baffle
- Collapsible metal feeder in convenient clam shell packaging
Because of its durable features, No/No feeders are built to last even through the most severe rain and snow, which makes them very attractive to birders who want their feeders to last! The simple wire mesh design also protects birds from Avian diseases and requires no cleaning.
In addition, the entire diamond-shaped surface of the No/No feeders serves both clinging and perching birds at the same time. No/No Wild Bird Feeders™ also offers feeders which feature smaller mesh design to support thistle and/or Nyjer® seed for convenient finch feeding.
Another useful feature of the No/No feeders is the specially designed and patented baffle that is found in the tube and multi-tiered style feeder models. The baffle allows the retention of seed in the upper level of the feeder to prevent them from going "dry" and causing food fights between hungry birds.
Birders want options when it comes to feeders, which is why another main appeal of No/No feeders is the variety offered. This brand of feeders comes in many shapes, sizes, colors, and even in a variety of metal finishes such as bronze and brass. Styles range from tiered, multi-tiered, tube, to lantern.
There are decorative styles as well such as Snowman, Mrs. Snowman, and Lighthouse. Be sure to check out the No/No brand top sellers like the No/No Cardinal Wild Bird Feeder, No/No Straight-Sided Finch Feeder, and the No/No Green & Black Finch Tube Feeder.
With bird feeding being the #2 hobby in America, it's no wonder that the No/No Wild Bird Feeders will delight just about any bird hobbyist as well as the birds who will enjoy not only the delicious seed, but all the conveniences this brand has to offer.
About No/No Wild Bird Feeders™
No/No Wild Bird Feeders™ brand is a familiar name to bird lovers, with durable, all-metal feeders that address the demands of both bird hobbyists and enthusiasts alike. A good resource for just about every wild bird need is right at your fingertips. Visit the Perky-Pet® website http://www.Birdfeeders.com to learn more about the No/No line of feeders. Plus, while there, pick up expert bird watching and feeding tips. No/No Wild Bird Feeders™ is a registered trademark of Woodstream Corporation, a long-standing, privately-held company and leading manufacturer of quality-branded rodent control products, caring control products for pets and wildlife, natural solutions for lawns and gardens and wild bird feeding products.
# # #