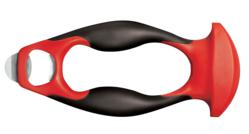 We're trying to bring our designs back to the essentials. Asking ourselves what makes a great tool and what's practical for real people everyday
Buffalo, New York (PRWEB) January 14, 2013
Lansky Sharpeners, a world leader in innovative sharpening technology is looking forward to the annual Shooting, Hunting and Outdoor Trade (SHOT) Show, where they'll be giving the outdoors industry the first look at their new products developed for release in 2013. This coming January will mark Lansky's 34th year as an exhibitor at the SHOT show. Renowned for the development of the legendary Controlled-Angle Sharpening System, Lansky continues their history of innovative design by developing new milestones in sharpening technologies and accessories for hunting, outdoor sports, kitchen use, as well as in the home.
Lansky has been hard at work for 2013, designing 14 new products including 4 brand new products, 6 amazing redesigned of Lansky's popular sharpeners and 2 brand new combo packs. With a renewed approach to design, each of the 14 new products have been meticulously planned to be functional, comfortable and easy to use.
"We're trying to bring our designs back to the essentials. Asking ourselves what makes a great tool and what's practical for real people everyday," said Chris Fire, CEO of Lansky Sharpeners.
Lanksy is in a prime position to impress consumers and outdoors professional alike with their newly developed products for 2013. They've achieved this by expanding the scope of their products while maintaining the high quality that has been the foundation of their business for 34 years.
About the company:
Lansky Sharpeners is the most recognized name in knife-sharpening worldwide. In addition to their legendary Controlled-Angle Sharpening System, they continue to develop new sharpening technologies and innovations for hunting, outdoor sports, kitchen use, as well as the workshop. They are known for their hunting knife sharpeners and precision sharpening kits. Visit their Online Store to view their ever-expanding line of great sharpening products. For more information visit their website at http://www.lansky.com