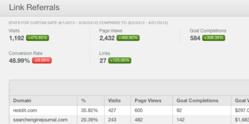 I'm so glad Raven made it simple to connect the dots between an SEO link builder's work and a client's business goals.
Nashville, TN (PRWEB) January 17, 2013
Raven Internet Marketing Tools' new Link Referral report adds a new data point to the SEO link builder's arsenal: website traffic resulting directly from link-building campaigns.
It's yet another way for link builders to demonstrate value to clients. The report is now included in every Raven account.
"I've been a link builder before, and it's frustrating when a client doesn't understand that link building campaigns can pay massive dividends even though they take time," said Jon Henshaw, Raven's Chief Product Officer. "Those dividends aren't just in increased traffic to a client's website—they can be whatever goals the client values or literal conversions that help a client make money. I'm so glad Raven made it simple to connect the dots between an SEO link builder's work and a client's business goals."
How Link Referral Report works
Raven's Link Manager tracks links acquired as part of a link-building campaign. The new report matches those links with Google Analytics data to determine exactly how much referral traffic results from those links. The report also includes engagement metrics, such as visits and bounce rates, as well as goal conversions.
The new report allows link builders to:

Demonstrate the contribution of their link-building efforts to website traffic
Show comparisons to prior periods, e.g. month over month
Report about website traffic resulting from link building
Assess the quality of traffic from link building compared to other traffic sources
Referral traffic is common in every Google Analytics account. Filtering the referral traffic only to links from a link-building campaign can be excruciating, especially at scale. Compared to manual reports, the Link Referral report will save time and reduce errors caused by including or excluding links.
To run the new report, the links must exist in Raven's Link Manager tool and the website's Google Analytics account must be synced with Raven.
Other new SEO reports
Raven has added four other reports specifically designed to help SEOs track and communicate key metrics to clients. All four are powered by data from Google Analytics, and all four are based on organic traffic (the kind of traffic that SEOs influence most). They include:

Organic Site Engagement: Report on the increase or decrease in visits, page views, time on site, bounce rate and other basic website engagement metrics. This report also gives insight into the keywords that drive the most engaged visitors.
Organic Goals: Report on goal completions, goal values and goal conversion rates. Most websites have goals set up (a.k.a. conversions), which can be as simple as viewing a page or as complex as filling out a form or purchasing a product.
Organic Landing Pages: Report on the pages that have the highest amount of conversions and most targeted traffic.
Organic Search Engine Share: Report on which search engines are driving the most organic traffic, as well as site engagement and goal conversion statistics as they relate to each search engine.
Raven customers will find all of the new reports—including the Link Referral Report—in the SEO module of Raven's Report Wizard tool.
Other link building report options
The new Link Referral report augments link report options that Raven released last year. For example, by using filters, link builders and content marketers can:

Report on links acquired on popular blogs, news outlets or other high-profile sites.
Report on paid links to keep tabs on cost savings or overruns.
Report on links with low quality scores that need attention or links with high quality scores that need maintenance.
These are just three examples; with all of the filters available, link builders can create hundreds of different reports. Raven customers can create these kinds of reports in the Links module of Raven's Report Wizard tool.
Raven Internet Marketing Tools offers a free, 30-day trial of its software for SEO research, link building, campaign management and reporting.
About Raven Internet Marketing Tools
Raven Internet Marketing Tools is online software that helps customers quickly research, manage, monitor and report on SEO, social media, PPC, email and other Internet marketing campaigns. Its collaborative, multi-user features and fast, professional reports make it the platform choice of thousands of online marketers worldwide. Raven Internet Marketing Tools, a privately held Nashville-based company, was founded in 2007.