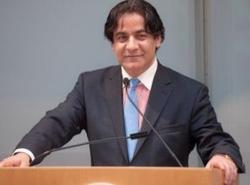 Washington, DC (PRWEB) January 11, 2013
In this video, Ziad Abdelnour, CEO and President of Blackhawk Partners, Inc., explains the nature of economic warfare and the values and practices individuals must cultivate in order to become wealthy and productive and in order to escape financial repression and the limits that it puts on individual freedom. Mr. Abdelnour is the author of the book, "Economic Warfare: Secrets of Wealth Creation in the Age of Welfare Politics."
Watch "Economic Warfare" here: http://www.atlassociety.org/as/economic-warfare
ABOUT ZIAD K. ABDELNOUR:
Ziad K. Abdelnour is a graduate of the Wharton School of the University of Pennsylvania, is President and CEO of Blackhawk Partners, Inc , Founder and Chairman of the Financial Policy Council, and the author of "Economic Warfare: Secrets of Wealth Creation in the Age of Welfare Politics."
ABOUT THE ATLAS SOCIETY:
The Atlas Society promotes open Objectivism: the philosophy of reason, achievement, individualism, and freedom. Our scholars work to further develop this philosophy born in the mid-twentieth century. We present the empowering principles of Objectivism to a global audience, and offer those principles as a rational and moral alternative in the marketplace of philosophical ideas.
We do this through a variety of programs, which include:
-Original scholarly research which further develops the philosophy.
-Academic training of young intellectuals.
-Publishing and commissioning influential books and monographs.
-Our rich multi-media website
-Original commentary and op-eds published in mainstream media.
-Speeches and media appearances.
Watch "Economic Warfare" here: http://www.atlassociety.org/as/economic-warfare