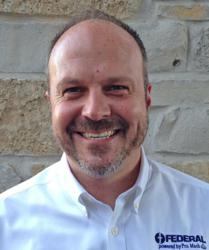 MILWAUKEE, WI (PRWEB) January 17, 2013
Federal Manufacturing, powered by Pro Mach, announces the promotion of Michael Collins to the role of sales and marketing manager. Collins has been with Federal for eight years, starting in the engineering group and working the last five years as sales engineer responsible for filling systems sales.
In the role of sales and marketing manager, Collins is responsible for all sales as well as development and implementation of marketing programs and practices. He will work with and be responsible for the existing distributor base. In addition, Collins will further develop and evaluate Federal's distribution methods.
Working with division management and engineering, Collins will strategize and develop new products for the marketplace, while targeting new markets for Federal's current line of gravity and net-weight filling systems.
"The move to sales and marketing manager is a natural progression for Mike," said Frank Johanek, vice president and general manager. "I am confident he will be an invaluable asset in achieving the level of excellence we desire."
For more information about Federal's fillers and cappers, call 414-384-3200 and visit http://www.FederalMfg.com.
About Federal
Durable, reliable, and hygienic designs have been the hallmarks of Federal fillers and cappers since 1946. To meet the strict demands of today's consumer, Federal has developed filling systems that further protect the quality, freshness, and flavor of products without compromising the core machine characteristics customers have come to expect in terms of operations and productivity. http://www.FederalMfg.com.
About Pro Mach
Pro Mach, Cincinnati, Ohio, is a leading provider of integrated packaging products and solutions for food, beverage, household goods, pharmaceutical, and other diverse consumer and industrial companies. Through three business units and related divisions, Pro Mach provides equipment, training, installation, and parts in primary packaging, end-of-line packaging, and identification and tracking. http://www.ProMachInc.com