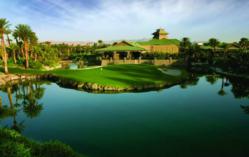 (PRWEB) January 13, 2013
In a recent feature by Jason Deegan of TravelGolf.com Bali Hai Golf Club was recognized as one of the "Top Resort Golf Courses." In the feature story Jason highlights that the course is conveniently located right on the Las Vegas strip going on to say that, "By stepping into Bali Hai's unique tropical setting, golfers are welcomed into an exclusive world where service and eye-popping surroundings make the greens fee well worth the splurge." He goes onto highlight that Bali Hai plays host to more than 2,500 palm trees and over 100,000 tropical plants and flowers making it a unique tropical golf paradise.
Bali Hai Golf Club is a 7,002-yard, par-71 course, designed by Lee Schmidt and Brian Curley in 2000, that won't beat up high-handicappers, but provides plenty to fend off low scores. Seven acres of water features flirt with the lines of play. Streams line the right side of the third and fourth holes. A larger lagoon protects the approach on the fifth.
About Bali Hai Golf Club
Bali Hai Golf Club is a premium daily fee championship resort golf facility. Golf Reservations are accepted up to 2 years in advance. Rates begin at $155. For more information, please visit the official Bali Hai Golf Club website.
About Walters Golf
Walters Golf, a division of The Walters Group, has become one of the fastest-growing and most widely respected golf companies in the country. From its first venture into the private country club market in 1995 to today's ownership and operation of top-quality, daily fee golf courses, Walters Golf continues their commitment to quality and profitability while offering customers excellent value
Led by businessman and avid golfer Bill Walters, Walters Golf is known in the national golf industry for developing first-class golf facilities. According to Executive Golfer, Walters is "Nevada's leading golf entrepreneur" who "recognized the need for visitor and corporate friendly golf facilities and packages, and seized on the opportunity, investing millions in four magnificent properties."
In Las Vegas, the company owns and operates Royal Links Golf Club, Desert Pines Golf Club and Bali Hai Golf Club in addition to Las Vegas Golf Getaways, Las Vegas Preferred Tee Times and Cili Restaurant.