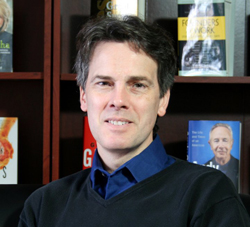 Washington, D.C. (PRWEB) January 11, 2013
In this talk, delivered at the 2012 Atlas Summit, Professor Stephen Hicks presents an Objectivist perspective on entrepreneurship and public policy. Objectivism's ethical philosophy is highly entrepreneurial, emphasizing initiative, self-responsibility, and self-creation. Consequently, Objectivism's political philosophy is entrepreneurship-friendly, emphasizing the protection of individual rights necessary for entrepreneurs to be able to function and flourish. Beyond that, are there more specific government policies that Objectivism should promote to foster entrepreneurship--e.g., specific tax, immigration, or education policies? Further, are there second-best policies that Objectivism should support to protect and encourage entrepreneurship in a mixed economy? These questions are all addressed in this engaging video.
Watch: "Objectivism, Public Policy, and Entrepreneurship" here: http://www.atlassociety.org/as/objectivism-public-policy-and-entrepreneurship
ABOUT STEPHEN HICKS:
Stephen Hicks is Professor of Philosophy at Rockford College and executive director of the Center for Ethics and Entrepreneurship there. His works include Ayn Rand and Contemporary Business Ethics, Nietzsche and the Nazis, and Explaining Postmodernism: Skepticism and Socialism from Rousseau to Foucault.
ABOUT THE ATLAS SOCIETY:
The Atlas Society promotes open Objectivism: the philosophy of reason, achievement, individualism, and freedom. Our scholars work to further develop this philosophy born in the mid-twentieth century. We present the empowering principles of Objectivism to a global audience, and offer those principles as a rational and moral alternative in the marketplace of philosophical ideas.
We do this through a variety of programs, which include:
-Original scholarly research which further develops the philosophy.
-Academic training of young intellectuals.
-Publishing and commissioning influential books and monographs.
-Our rich multi-media website
-Original commentary and op-eds published in mainstream media.
-Speeches and media appearances.
Watch: "Objectivism, Public Policy, and Entrepreneurship" here: http://www.atlassociety.org/as/objectivism-public-policy-and-entrepreneurship