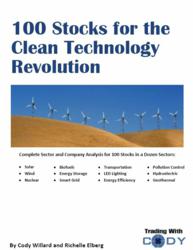 The set-up right now for Clean Tech is probably a lot like it was for Telecom/Dot-com Tech back in 2002.
New York, New York (PRWEB) January 14, 2013
Long time hedge fund manager and founder of TradingwithCody.com (a Willard Media Venturers, LLC company) Cody Willard today announced the release of his latest Revolution Investing book: 100 Stocks for the Clean Technology Revolution.
"We went to work on the entire Clean Tech Revolution Sector looking for investments, trades and even some short ideas, especially near-term shorts. The Clean Tech Revolution Sector is now consolidating at pennies on the dollar for both assets and entire companies. The survivors of this consolidation will likely see some huge gains for investors in years ahead," said Cody Willard, President of Willard Media Ventures. Willard's "Flip It" contrarian methodology indicates buying into sectors when they're most reviled. Willard added, "You know about Warren Buffet's legendary instincts for buying contrarian sectors. Well guess what. The Oracle of Omaha is now investing in Clean Tech."
In "100 Stocks for the Clean Technology Revolution," Willard's team of investment analysts have taken an in-depth look at companies in the Solar, Wind, Smart Grid, Biofuel and eight other CleanTech sectors, and uncovered the very best long and short ideas for 2013. One hundred stocks to buy or sell—today!
Willard rose to Wall Street prominence with his uncanny market timing and savvy stock picks. He launched a tech-centric long/short equity hedge fund on October 1, 2002, just eleven days before the Nasdaq finished its two-year long 75% decline—and closed it on October 1, 2007, warning of the coming collapse of the major Wall Street banks. The market subsequently crashed 60% over the next year.
To get your copy of 100 Stocks for the Clean Technology Revolution, go to http://www.tradingwithcody.com/clean-tech/. And for a ring-side seat as Cody buys and sells stocks and options for his personal portfolio, join http://www.tradingwithcody.com.