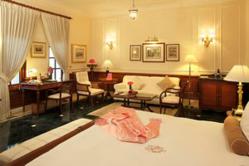 Goway can custom design tours that appeal specifically to women's tastes and travel interests.
(PRWEB) January 17, 2013
Goway recognizes the emerging trend of female travelers especially those who are looking for a unique and rewarding travel itinerary. According to Bronwyn Hodge, Asia Product Manager, "Goway can custom design tours that appeal specifically to women's tastes and travel interests. For example Goway offers private shopping guides in Hong Kong or Singapore, as well as unique cultural day excursions where travelers can learn a new skill, such as a calligraphy class in Japan or a cooking class in Thailand."
In India, Goway offers a line up of luxury hotels that have "women only" floors, which include special ladies amenities, additional security cameras. This can be offered to clients on Goway's Stay of Distinction Hotel in Delhi, India. In addition, in India, Goway also provides a cell phone with pre loaded credit upon a client's arrival.
For women who love to be pampered or spend a day at the spa, Goway's Bali Beach Escape packages include a 70 minute massage, or women can upgrade to an all inclusive package if they prefer a hassle-free holiday with all meals and drinks included.
For women who are planning to tie the knot, Goway can also help arrange destination weddings, and also has an online honeymoon registry. Many resorts that Goway offers have added bonuses exclusive to honeymooners such as free massages, spa treatments, private dinners and special flower bouquets. Goway's 7-12 days Thai Beach Escapes in Samui or Phuket offer many stay/pay specials, giving great value to those who spend one week or more in Thailand.
For solo women travellers who prefer the comforts of a group, Goway has a range of small group journeys in Asia. The specially branded Holidays of a Lifetime, the Splendours of China and Tibet tour and The Splendours of India tour even have a twin-share guarantee and will match a woman up with another female traveller.
Goway can also always custom design an itinerary to suit a specific clients needs! Enquire for more details.
Goway specializes in travel packages for independent and group travel. Since 1970, Goway has provided custom itineraries to some of the world's most exotic and interesting destinations. Goway's destinations include Australia and the South Pacific, Africa and the Middle East, Latin America and Antarctica, Asia and idyllic tropical islands. For a free trip quote, visit http://www.goway.com/forms/quote_request.