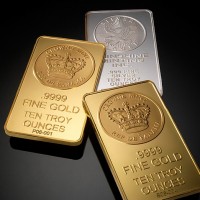 CBS is proud to be one of the first & only Canadian firms that offers the opportunity to help purchase physical gold and silver for RRSP's or TFSA's.
Toronto, ON (PRWEB) January 14, 2013
Canadian Bullion Services is proud to be one of the first and only Canadian firms that offers customers the opportunity to help facilitate the purchase of physical gold and silver for their RRSP or TFSA.
There are many benefits of having physical gold and silver in an RRSP or TFSA. It diversifies the portfolio, which is a proven method for growth. It is considered an historical safeguard from the stock market and currency instability. Finally, it allows the investor to take advantage of market movements and hold true control of their retirement plans.
The gold and silver is guaranteed for purity (.9999) and weight and is minted at the Royal Canadian Mint. For top security, the gold and silver is stored at the largest Brinks location in Canada under 24/7 surveillance, protected by armed guards, and monitored by 3 independent alarm companies. The vault's exterior is made of a foot of concrete with reinforced steel bars on all sides. The vault contains separate safes within the vault along with seismic and motion sensors. The Brinks vaults are so secure that its contents are fully and completely insured.
To find out how open an account and start adding gold and silver to your RRSP or TFSA, simply call 1-866-901-0600.
About Canadian Bullion Services
Canadian Bullion Services is a precious metals dealer located in downtown Toronto. Its management has more than 50 years of financial services experience and one most respected names in the industry. Its superior customer service and competitive pricing is what places it among the top precious metals dealers in Canada.
For more information visit http://www.canadianbullionservices.com or contact us at info(at)cbmetals(dot)com if you are interested in adding precious metals to your portfolio.