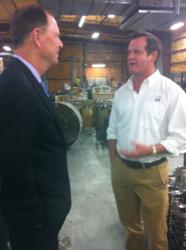 "We love companies that make stuff." ~Congressman Posey
Gifford, FL (PRWEB) January 14, 2013
With the start of a new year already underway, Girard Equipment happily welcomed Congressman Posey and his associates tour the company's Gifford based manufacturing facility. The Congressman, recently re-elected, is enthusiast to learn more about the companies genuinely making things within his jurisdiction and he had plenty of questions for Girard Equipment's President Timothy Girard. "Having a gross domestic product that's made right here then exported out is something we are very proud of," said Mr. Girard. "In fact, we actually ship our goods to China rather than the other way around."
Girard Equipment, established in 1952 and relocated to Indian River from New Jersey in 2008, specializes in valves and vacuum breakers for tankers in the chemical distribution industry. The Department of Transportation (DOT) mandated products help make liquid transportation safer by preventing implosions and explosions due to the pressure inside the tankers. It is a highly mandated and regulated industry that Girard Equipment has been a part of since its conception; making the Girard name a trusted one both far and wide. http://www.girardequip.com
After spending an hour touring the facility, seeing how the components were machined, and viewing the equipment along with the crews that run it; the Congressman left feeling "very energized and excited about how Girard Equipment is able to contribute to the area." Opening a satellite office in Vero Beach, the Congressman stated he looked forward to learning more about the businesses in the county as well as being closer for the citizens that live in Indian River.