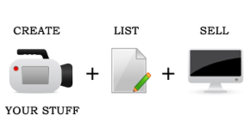 (PRWEB) January 13, 2013
People who are interesting in making extra money on the internet have many eCommerce websites to choose from. But even when they know where to go online, they don't always know what to sell. Kenneth Mathurin, owner of Myzilch.com, says five products outshine the others on his list of top sellers.
Mathurin says video games are in high demand on ecommerce and auction sites, especially if they are brand new and unwrapped. He says the titles that strike a chord with gamers are Halo2, Assassin's Creed III, Just Dance 4, Assassin's Creed III, FIFA Soccer 13, New Super Mario Bros. 2, Madden NFL 13, Pokémon Black Version 2, Elder Scrolls V: Skyrim, and FIFA Soccer 13.
Collectable sneakers are also popular online, according to Mathurin. He says, "Certain sneakers will always be considered collectables – whether they're throwbacks or new, as long as they're in good condition." As for brands and styles, he names Nike's Air Jordan Bred 4, Air Jordan Cement 3, Air Jordan 11, Air Foamposite Camo, Lebron 10 Prism, Air Max 95, Neon Green, Jordan Bred 13, and Jordan 1 Chicago as highly sought-after sneakers. Mathurin says smartphones sell well on the internet, too, because buyers are constantly looking for good deals on the latest models. He says both iPhones and Android phones are in high-demand on ecommerce sites.
In the search for bargains people are also willing to shop for tools online, according to Mathurin. He says sellers are having success with power drills, power saws, automobile tools, and any tools dealing with indoor home renovation. Mathurin says designer clothing remains a hot commodity online as long as the items are from very popular brands. In particular, he says many online buyers are searching for designer jeans from brands such as Levi's and True Religion.
About Myzilch.com:
Myzilch.com is a social community site founded with the premise and the ultimate goal of becoming the leader in video community shopping. The website provides a one-on-one experience where buyer and seller meet through video demonstrations, bringing the personal touch back to online shopping. To discover what Myzilch.com can do for you, visit http://www.myzilch.com.