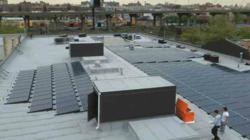 It just made a lot of sense. Thanks to funding from NYSERDA, tax incentives and other funding sources, the system will quickly pay for itself
Bronx, NY (PRWEB) January 15, 2013
Felix Storch, Inc, a leading supplier of compact, specialty, commercial and medical refrigerators and freezers, based in the Hunts Point section of the Bronx, is now receiving over 40 percent of its electricity from solar power produced on-site.
Felix Storch, is the among the first of a variety of major solar photovoltaic (PV) installations expected to be installed this year in New York City as the result of NYSERDA's PON 2156 competitive customer-sited regional PV program. The program is designed to encourage large-scale renewable-energy installations in New York City, Westchester County and the southern Hudson Valley. The company estimates that the 148-kilowatt system, which came on-line last spring, will save the company about $40,000 per year on its power bills.
Ross Solar Group LLC, a family owned and operated solar design and installation company, named Sunpower Commercial Dealer of the year in 2011, installed the robust Felix Storch PV system that included 480 solar panels on the flat roof of Felix Storch's Bronx facility.
Felix Storch owner and CEO, Paul Storch, said the company had considered investing in solar power for several years, and decided to make the investment after Ross Solar Group's commercial sales manager, Robert Kline, helped them take advantage of a variety of incentives that helped make the project financially appealing. "It just made a lot of sense. Thanks to funding from NYSERDA, tax incentives and other funding sources, the system will quickly pay for itself," he said.
The commercial solar energy system installed by Ross Solar Group, was the second system installed under the NYSERDA PON program. To date, Ross Solar Group has installed nearly 1mW of solar energy in the New York City area.