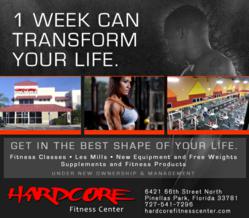 I can confidently state that we are 'The Best Gym in Town!'
Pinellas Park, FL (PRWEB) January 20, 2013
Hardcore Fitness Center (http://www.hardcorefitnesscenter.com) is holding an open house all day on February 9th and 10th at 6421 66th Street North in Pinellas Park, FL. The community can enjoy free refreshments and Hardcore Boot Camp classes throughout each day, giving guests the best total body strength and conditioning workout.
The open house will provide fitness classes every hour all day long and if people sign up for a membership during the open house, Hardcore Fitness Center will waive the membership processing free. Adding to the fun, Hardcore Fitness Center's neighbor, Steak Depot will also be doing a big cookout in the front parking lot space and offering natural healthy meats all day long.
Owner Mark Roesch said, "I can confidently state that we are 'The Best Gym in Town!' Our fitness programs, competitive month-to-month membership rates with no contract, personal trainers, instructors, facilities, pro shop, and location are the best available value for our members."
Hardcore Fitness Center has a new name, a new owner and friendly new management. It is one of only a few local full service, family-friendly fitness centers in the Pinellas Park area and the 66th Street location just south of Park Boulevard is convenient for Tyrone, the Beaches, St Petersburg, Seminole, Largo, and Clearwater residents.
Hardcore Fitness Center offers the latest Les Mills™ classes, one of the world's most popular group fitness classes and team training programs. The Center also offers, throughout the year, one(1) free visit to its Hardcore Boot Camp classes that take place every Saturday, helping to achieve weight loss goals for the New Year. The Boot Camp classes provide 10 training stations designed to shred body fat and tone muscles using one's own body weight and military style exercises.
To learn more about Hardcore Fitness Center, please come in to visit anytime, go to http://www.hardcorefitnesscenter.com, email info (at) hardcorefitnesscenter (dot) com or call 727-541-7296.
About Hardcore Fitness Center
Hardcore Fitness Center is now under new ownership and management offering quality fitness equipment and classes including cross-fit, kickboxing and Les Mills™. Membership plans are available for individuals, families, groups and companies. Silver Sneakers/Silver & Fit and several major medical insurance plans are honored. Nutritional Supplements and fitness products are also available in the Pro Shop.
About NALA™
The NALA (National Association of Local Advertisers), a small business association, is for local business owners offering new online advertising & small business marketing tools, great business benefits, education and money-saving programs, as well as a charity program.
PR Contact: Tiffani Tendell
ttendell (at) thenala (dot) com
805.650.6121, ext. 361
###