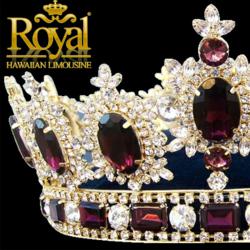 The search for Miss RHL 2013 has already started and we have some fantastic prizes available, so we are urging as many eligible ladies to apply as possible right now!
-Spokesman at RHL
Honolulu, HI (PRWEB) January 15, 2013
"Hawaii has no shortage of beautiful and talented ladies and so it seemed like the perfect idea for us to have one of them represent our limousine service!" said a spokesperson for Royal Hawaiian Limousine, "The search for Miss RHL 2013 has already started and we have some fantastic prizes available, so we are urging as many eligible ladies as possible to apply right now!"
Morad Shaker is the CEO of Royal Hawaiian Limousine and has taken many opportunities in the past to give back to the island. The search for Miss RHL 2013 is a continuation of that support to the local community. Mr. Shaker said, "This is a great opportunity for a mutually beneficial idea to come to fruition. It allows us to give back to the community and give people a fresh chance in life, while also benefitting our business and exposure at the same time." Mr. Shaker continued, "This is a long term commitment and so when we find our new Miss RHL 2013 we will make sure that she is supported for a long time to come. We will use her as the face of our business, support her education and help to open up new opportunities for her."
There is an exceptional prize at stake, which involves cash, prizes, and opportunities that could literally change the winners' life! The prize fund is quite substantial and the winner of Miss RHL 2013 will be awarded with a $1,000 USD cash reward, a $500 school scholarship for every semester up to PHD level, a $5,000 USD worth of limousine use throughout 2013 - 2014 and a VIP Gold card membership to Royal Hawaiian Limousine for life.
"This is a wonderful chance for the local community and it's very exciting!" exclaimed a local resident, "It's always great to see new opportunities for the younger generation and I look forward to seeing who the winner is."
Royal Hawaiian Limousine is thought to be the very first Honolulu car service to establish such a competition but it is thought that other companies may quickly jump on the bandwagon. Morad Shaker commented, "This is what I wanted. We are already seeing huge success and interest in this idea and so I have no doubt that other companies may well follow in our footsteps. However, I have no problem with that at all, anything good for the community is good for us all."
The prize of becoming Miss RHL 2013 is to become the front person of the Royal Hawaiian Limousine Hawaii car service. They will be used as the host on the company's YouTube channel as well as promotional films and other public announcements and this could easily lead on to other, even bigger opportunities in the future.
Other prizes and runners up awards are on offer and all can be found at the Royal Hawaiian Limousine website where eligible girls can also download an application form and apply to be a part of the competition.
The event will be judged on a number of different criteria that includes intelligence, speaking skills, beauty, talent and numerous other aspects that are believed to form the perfect Miss RHL 2013. Any girl from Hawaii that is aged between 16 and 23 years of age can apply and be part of this amazing opportunity.
"The search for the new Miss RHL 2013 is very exciting," said a spokesman for Royal Hawaiian Limousine, "and we are really looking forward to seeing all the talent that the island has to offer and eventually finding our perfect Miss RHL 2013 to work with!"
Applications for this amazing new opportunity are now open and so you can apply right now to get your chance of a lifetime. Simply visit RoyalHawaiianLimousine.com and RoyalHawaiianLimousine.info now to download an application and return it as soon as possible. For car service in Honolulu and bookings, call 808-275-6030.