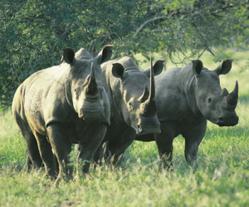 If rhino poaching isn't halted, the rhino may simply become a memory – and the question is, what next?
(PRWEB) January 16, 2013
Rhino poaching in South Africa has reached epidemic proportions and 2012 has been a truly tragic year. The total poaching figure has now far surpassed the total for 2011, with around 588 rhinos killed this year to date. Since the poaching epidemic started in 2008, South Africa has lost over 1500 Rhino. The slaughter has worsened with the rising demand for rhino horn in Asian countries and increasing involvement of ruthless criminal syndicates.
Goway, in partnership with the Wildlands Conservation Trust, (a non-profit organisation working to conserve South Africa's biodiversity), is committed to raising funds to support their Rhino Conservation efforts. To this end Goway will donate $20 for every booking made that features one of their preferred game lodge partners from now until 30 June 2013. "If rhino poaching isn't halted, the rhino may simply become a memory – and the question is, what next?" said Moira Smith, General Manager of Goway's AFRICAExperts. 'We have to conserve our natural assets for generations to come."
Goway's contributions will go towards:
1. Equipment for anti-poaching units.
2. Funding to upgrade the skills of APU teams and reserve staff
3. Funding to maintain informant networks that play a vital role in tips as to when poaching is about to be committed.
4. Education and awareness programs in schools and communities.
5. Funding for monitoring work which is a 24/7 job.
6. Involving the communities in anti-poaching projects.
For featured lodges, please see below list:
– Kruger Area
– Eastern Cape Area
– Kwa Zulu Natal
– Northern Cape Area
– North West Province
– Limpopo Province
Goway specializes in travel packages for independent and group travel. Since 1970, Goway has provided custom itineraries to some of the world's most exotic and interesting destinations. Goway's destinations include Australia and the South Pacific, Africa and the Middle East, Latin America and Antarctica, Asia and idyllic tropical islands. For a free trip quote, visit http://www.goway.com/forms/quote_request.