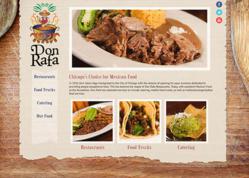 fresh generous portions and excellent customer service every day
Chicago, Illinois (PRWEB) January 15, 2013
Don Rafa restaurants specialize in carnitas however they do not stop there. With a flavorful menu they were in need of a website to match so their customers could gain the full experience. With that, they teamed up with Idea Marketing Group to create a website perfect for Don Rafa Restaurants.
With dated Flash technology, Don Rafa website visitors were not able to access the site on their mobile devices. With that, the team at Idea worked skillfully to create a website that was a solution to all problems; mobility and visuals included. To provide as much flare online as in the restaurants, a vibrant gallery of menu items is now displayed on the website thanks to talented photographer Nick Ulivieri.
Don Rafa has remained successful with "fresh generous portions and excellent customer service every day" according to owner Rafael Vega. By sticking to their traditional ways and honest service as well as adapting to the changing times, they are able to take great care of their customers and also serve a greater number of people.
Although there is a large pool of competition surrounding the restaurants, Don Rafa continues to set themselves apart from the others and with the launch of their new website they will continue to excel through their enhanced online branding.
The launch of the new website creates another important milestone in their business. To learn more about Don Rafa Restaurants and see the new website, be sure to visit Don Rafa Restaurants.