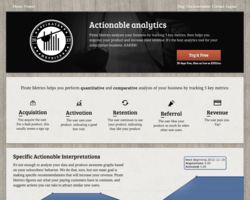 "It's a great way to see which users are in danger of leaving your product," said Elijah Miller, a partner at Fastest Forward.
(PRWEB) January 16, 2013
Expected Behavior, a software development company specializing in consulting and product work, has launched Pirate Metrics. This new application helps perform quantitative and comparative business analysis by tracking five key metrics: acquisition, activation, retention, referral and revenue. The main goal of Pirate Metrics is to make specific recommendations that will increase revenue.
Pirate Metrics tracks important events for SaaS (software as a service) products, ranging from new user signups to user referrals and payments. This information is then collected into user groups, and groups are compared against a rolling average. This makes it easy to see which marketing activities result in more new signups, engaged users, and higher profits.
Pirate Metrics tracks user behavior and key activities, helping businesses understand when users start using their service, refer other users, and pay. Pirate Metrics then looks for patterns in user behavior, and offers specific advice to increase user conversion, retention and revenue.
A key feature of Pirate Metrics is the weekly Marketing Report, which provides more in-depth analysis of user activity, such as users who are especially active, new signups who haven't used the product yet and paying users who haven't used the product recently.
"I really like Pirate Metrics' user reports," said Elijah Miller, a partner at Fastest Forward. "It's a great way to see which users are in danger of leaving your product." Fastest Forward uses Pirate Metrics for Instrumental, an event handling application.
"Every online business knows it needs to track subscription metrics, but doing it by hand is tedious and error-prone, so it often falls by the wayside," said Matthew Gordon, a partner at Expected Behavior.
Expected Behavior, the developer of this innovative tool, began work on Pirate Metrics after being dissatisfied with current analytical tools for SaaS products.
"Pirate Metrics increases revenue for online businesses and frees up marketers and developers to focus on their product," said Gordon.
About Expected Behavior
Expected Behavior is a software product and consulting company focused on performance and scalability through the better use of technology.
Never stop getting better. Ever.
Media Contact
Tyler Moore
812-391-3296
tyler(at)expectedbehavior(dot)com
http://www.expectedbehavior.com/